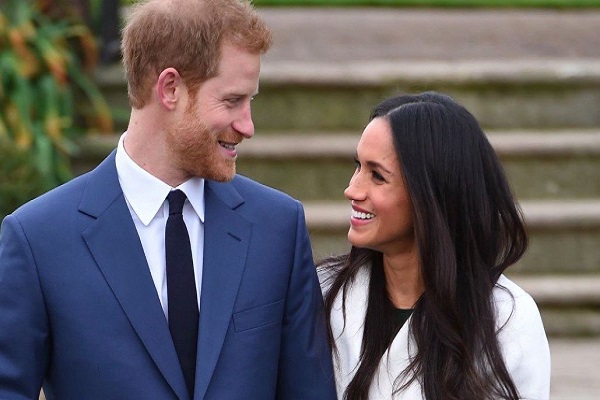 Kensington Palace revealed that Prince Harry and Meghan Markle will say 'I do' at St. George's Chapel in Windsor Castle next May.
The happy couple announced their joyous news yesterday morning, much to the delight of the public.
It is understood that the venue is extremely important to both Harry and Meghan, who have spent a lot of time at Windsor Castle
The pair opened up about the proposal during their first television interview yesterday evening. Harry shared that he proposed when they were at home in their cottage.
The marriage of Prince Harry and Ms. Meghan Markle will take place at St. George's Chapel, Windsor Castle in May 2018. pic.twitter.com/lJdtWnbdpB

— Kensington Palace (@KensingtonRoyal) November 28, 2017
Meghan admitted that she said yes to his proposal so quickly that he didn't even get a chance to put the ring on her finger: "She didn't even let me finish, she said can I say yes, can I say yes, and I had the ring in my finger and I was like can I - can I give you the ring?" Harry shared.
The royal family are thrilled about Harry and Meghan's engagement. However, Harry revealed that there was one very important person missing from the celebrations.
During their first interview together, Harry shared that he missed his late-mum Diana a lot.
He wanted to make sure that his mum was still part of their journey, so he added diamonds from her personal jewellery collection to Meghan's engagement ring.
He shared, "The little diamonds either side are from my mother's jewellery collection to make sure that she's with us on this - on this crazy journey together."
Prince Harry and Ms. Markle will undertake their first official engagements together in Nottingham this Friday. pic.twitter.com/6RQYdyZ2t2

— Kensington Palace (@KensingtonRoyal) November 28, 2017
Harry believes that Meghan and Diana would have been the best of friends, and stated that they'd have been "as thick as thieves."
He shared, "She'd be over the moon for me, but she would have been best friends with Meghan."
The lovebirds first joint engagement is set to happen on Friday in Nottingham. Meghan has revealed that she is excited about her new role, "It's a new chapter," she said.
Kensington Palace tweeted, "Prince Harry is looking forward to introducing Ms Markle to a community that has become very special to him."
They added, "They will visit a Terrence Higgins Trust #worldAIDSday charity fair where they will meet representatives of organisations supporting people living with HIV/AIDS."