When a heatwave hits our usually rainy little country, we're generally ill-equipped to deal with it. We flock to the beach, fight for shade and have to dig up our almost empty SPF bottle from the bottom of last year's beach bag.
And if we as adults can't handle it, how are we to expect our young children to manage this unusual and intense heat?
Heat like this can be very dangerous to infants and young children as their health can be majorly affected by dehydration, heat exhaustion and sunburn. Keeping them cool and protected from the sun should be our top priority during weather like we're experiencing now. At different ages and stages, children need different levels and types of protection.
Less than 6 months old
At less than 6 months, babies have very little melanin, meaning that they don't have the same level of protection from the sun that the rest of do. Their skin is extra sensitive to burning, which means they need to be kept out of direct sunlight.
Older than 6 months
Even after six months, infant's skin is prone to burning and it's advised that they be kept out of direct sunlight when the sun is at it's strongest, usually between 11am and 3pm. Bring parasols with you to shade them from direct sunlight – there's lots of handy ones you can attach to buggies also.
Suncream
Suncream is a divisive topic among mothers, as some aren't comfortable using them on their babies' sensitive skin. The NHS do recommend using it however, and advise applying no less than factor 30. Check that your suncream protects against UVA and UVB rays and that you're applying it regularly, as water can wash it off.
There are plenty of child-friendly and baby-friendly SPFs out there, like La Roche Posay's Anthelios Dermo-Baby Sun Cream, which is suitable after 6 months and Soltan's Protect & Moisturise Baby Lotion which is specifically formulated for children's delicate skin.
Alternatively, if you're not comfortable using SPF, a wide-brimmed hat or a small tent are good options to ensure baby remains in the shade.
Dehydration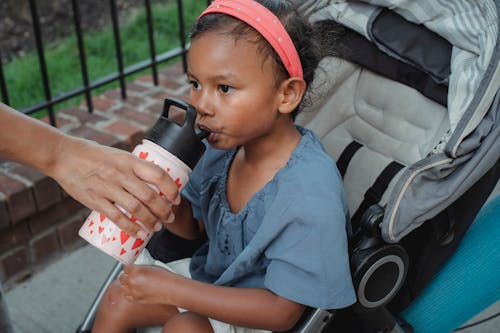 We all need to make sure to keep ourselves hydrated on sunny days, and that can be difficult when we're on the go. Babies also need to be kept hydrated in this hot weather and how you do so will depend on lots of factors. According to the NHS:
Less than 6 months old
If they are being fully breastfed, they do not need any water until they've started eating solid foods. During hot weather they may want to breastfeed more than usual.
If you're bottle feeding, as well as their usual milk feeds, you can give your baby a little cooled boiled water. If your baby wakes at night, they'll probably want milk. If they have had their usual milk feeds, try cooled boiled water as well.
If you're unsure, you should ask your GP for advice or contact your local healthcare professional.
Over 6 months old
Once you have started to introduce solid foods, you should offer your baby sips of water from a cup or beaker with meals. Remember that breastmilk or infant formula should be their main drinks during the first year. In hot weather, you may need to offer some additional water outside of mealtimes.
From 12 months
Water, breast milk or whole cows' milk should be your baby's main drinks. In hot weather, you can try giving them frozen lollies made from plain water or from very diluted fruit juice to help keep them hydrated. Lollies made from diluted fruit juice should only be given at mealtimes because they can cause tooth decay.
For older children, give them plenty of fruit and salad to help keep their fluid levels up. Remember that undiluted fruit juice or smoothies should not be given to children until they are 5 years old.