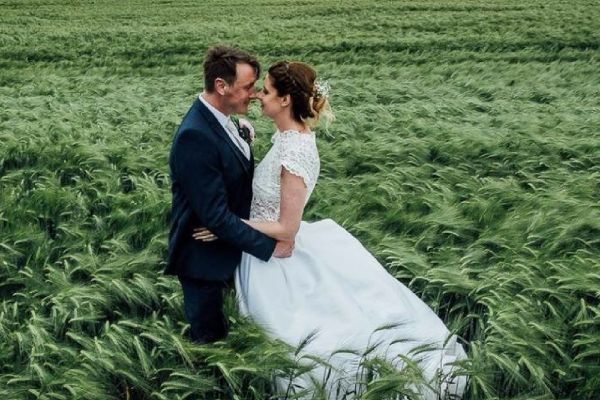 Wedding photographer Jonny Draper has captured many beautiful and emotional photos throughout his career.
Bride-to-be Beth Johnson and her fiancé Chris Martin, from Manchester, hired Jonny to photograph their big day, confident that he would produce some beautiful images.
However, it was a candid behind-the-scenes snap that turned out to be the most incredible and popular photo of the entire wedding album.
While Beth was sitting in her robe having her makeup done, the couple's son George needed a feed. Beth took George in her arms and breastfed him while the preparations around her continued. George gazed up at her lovingly, not knowing what was going on around him.
Jonny took a photo of the tender moment and, with Beth's permission, he posted it on his Facebook page.
Jonny explained underneath why this simple candid photo meant so much to him: "When you're getting ready to get married, life with your beautiful children doesn't stop.
"Love this moment and thank you, Beth, for your permission to post this.
"Don't get me wrong, I love a smoke bomb, some cool lighting; but real moments like this are why I love being a wedding photographer.
"Congratulations, Beth and Chris. It was the most incredible wedding, and thank you so much for having me along."
The gorgeous black and white photo soon went viral, garnering over 3,000 likes and over 100 shares.
Facebook users admired the touching scene, commenting on the beautiful bond between mother and son.
"Absolutely gorgeous! Love how the baby is staring up lovingly at the mother," one wrote.
While another admired how the shot captured a normal part of life on a special day, commenting: "Real life captured like this always makes for the best photos, love it!!"
Being a mum means always putting your little one first, and this photo is such a perfect and beautiful example of this. Despite all the hustle and bustle around her, Beth, like any mum, was alert and attentive to her baby's needs.
It captures a truly special moment, and no doubt Beth will cherish this precious memory in years to come when George is all grown up.
Do you like this photo, mums? Let us know your thoughts.