Recipes by The Happy Pear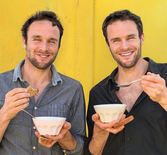 The Happy Pear started out back in 2004 with a small veg shop in Greystones, County Wicklow, and a big dream. Dave and Steve Flynn had been travelling the world and as twin power goes, on opposite sides of the world they switched to a plant based diet within a week of each other. The Happy Pear seed was sown.
The brand has slowly been building for 14 years. First came the shop, then the cafe, followed by the farm, the product range and the roastery. Then came the learning with both online and classroom Happy Heart Courses. And last, the digital avalanche; Part of Jamie Olivers Foodtube network, a successful Youtube channel, multiple digital awards as well as Snapchat, Facebook, Instagram and everything in between.
David and Stephen Flynn's first cookbook, The Happy Pear, was a Number One bestseller and has sold over 100,000 copies. Their next book, The World of the Happy Pear, has also been a Number One bestseller and has sold over 50,000 copies since its June 2016 publication. The two books have revolutionized the interest in vegetarian food in Ireland and further afield. Their third book, Recipes for Happiness, was released in May 2018.