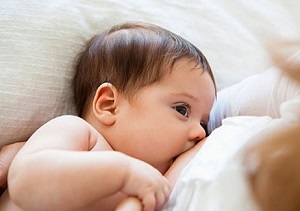 Given the overwhelming number of stories detailing breastfeeding-shaming, we are not surprised by this latest report.
A restaurateur in the US has faced major backlash on social media this week after making shocking comments about breastfeeding mothers.
Todd Pratt, owner of The Frogstone Grill, has incurred the wrath of mums everywhere after likening breastfeeding mothers to topless dancers.
The drama kicked off when customer Brianne McNally took to Facebook to shame the restaurant owners over their breastfeeding policy. "A lady at the restaurant just came over to the table really abruptly and just said, 'Do you have a blanket or something to cover yourself up with?'" she wrote.
After leaving the restaurant, fuming, McNally posted her experience up on Facebook, but she was horrified by restaurant owner Pratt's response back.
Commenting under her post, Pratt wrote: "What we don't want is women that feel they need to bare it all while feeding their baby. They will be asked to cover themselves up. There is already one topless bar in town and council won't approve another."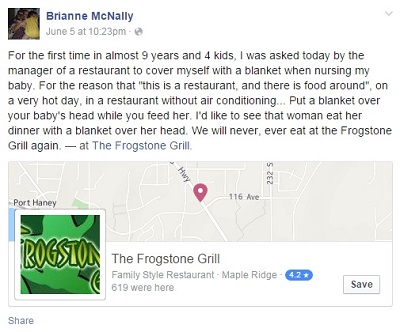 Later admitting that he intended for the comment to be taken 'light-heartedly', Pratt also went on to reveal he had no idea that discriminating against mothers who breastfeed in public is a human rights violation.
His explanation is too little, too late for certain patrons of his establishment however, with one commenting: "As far as I'm concerned, he was speaking his mind. You don't say things like that and come back from it.
A nurse-in has now been organised to take place in the restaurant.