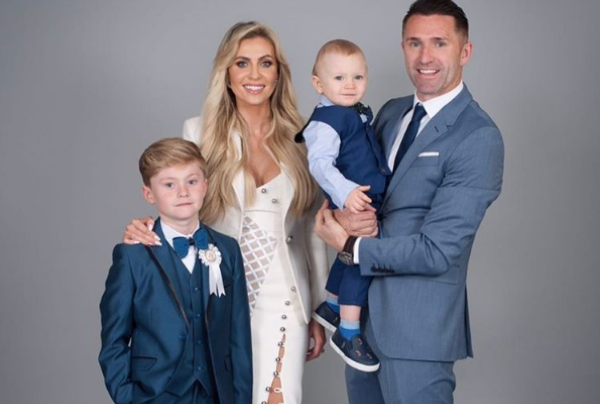 Football star and proud father, Robbie Keane, has shared family photos of his son Robert's First Holy Communion - and they are like something out of a magazine.
Robert, who is 8-years-old, looked like a chip off the old block in a very dapper blue suit, similar to the suit his dad was wearing.
Even baby Hudson, who is just 19-months-old, wore complimentary blue shirt, waistcoat and chinos - and looked perfectly adorable.
The former Irish International player Robbie shared a number of family pictures from the day, including a gorgeous image of foursome, that he captioned, "Congrats to my little man Robert who made his First Holy Communion today... I couldn't be more proud of him."
The stunning mother of little Robert and Hudson, Claudine, who wore a cream dress and blazer, also shared a photo on Twitter, with the caption, "My Robert's communion Day... my heart melts."
My Robert's communion Day.. my heart meltspic.twitter.com/t5A3c89O9J

— Claudine Keane (@ClaudineKeane1) May 13, 2017
Robbie is currently out of his contract from LA Galaxy football team, and the family will be moving to a different part of the world soon, but are currently really enjoying their time in Dublin.
Claudine spoke to the Independent, and explained that while she enjoys her life in Los Angeles, there are certain things she really misses about her hometown of Dublin:
"The kids do lots together, they're really into sports and I love that part of it. We're missing a little bit of that in LA because you have to set up play dates and people are coming from everywhere to school. I miss the close-knit community at home."
Robbie and Claudine got married in 2008, and welcomed the gorgeous little Robert into the world the following year, in May 2009. The couple then welcomed their second son, the adorable Hudson, on 5 October 2015.
What a gorgeous day out for the Keane family!