Spencer Matthews and his close friend James apparently have a very tight bond, judging by this exclusive wedding photo of the pair.
Spencer and his sister-in-law's brother are donning tailored tuxedos, absolutely beaming at the camera, probably because Vogue Williams is behind it.
New father Spencer welcomed baby Theodore last September, and has known Kate Middleton's brother, James, for a long time.
Today, reality star Spencer shared a new photo from the happy day, as he declares "I feel lucky every day to be married" to his wife Vogue.
The adorable photo shows Spencer and his long-term friend James looking especially dashing as they jump for joy on Vogue and her husband's special day of celebration.
He captioned the snap; "Thought I'd share this fun snap of James and I on my wedding day to the one and only Vogue Williams! What an amazing weekend that was..."
The pair were married on the Scottish grounds of the Matthews' family estate last year, and have been inseparable ever since.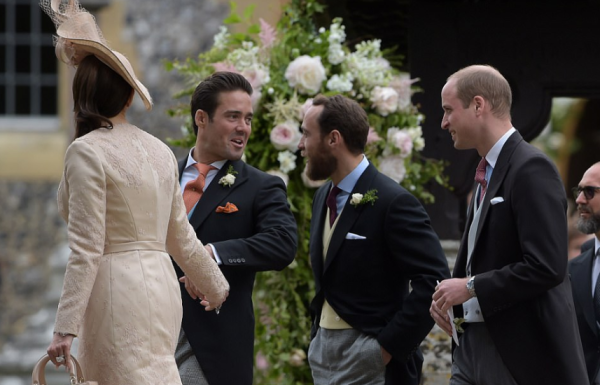 Spencer proposed at the Lyceum Theatre in London's West End last February, and their joy at starting a family is palpable.
The happy couple debuted their TV series Spencer, Vogue and Baby Too this week, which hilariously follows the pair as the navigate parenthood with their newborn son Theodore.
Spencer has friends in high places; himself and James Middleton clearly both enjoyed the magical wedding.