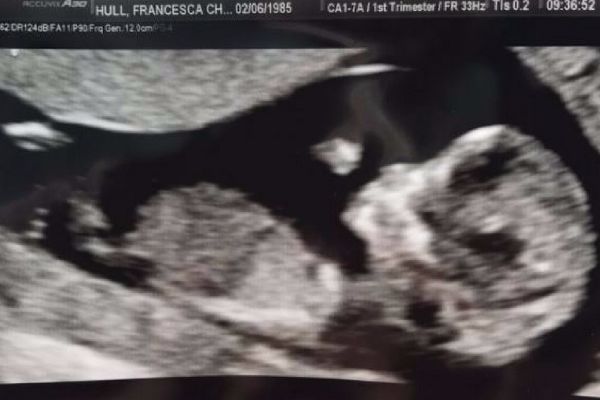 Made in Chelsea star Binky Felstead was the first cast member to become pregnant, but the mum-to-be won't be alone for long.
The latest episode of MIC saw Binky's former cast member and best friend, Cheska Hull, return to the show to celebrate Binky's baby shower - and she had some exciting news of her own.
After the episode aired, Cheska took to Instagram to share a photo of her scan in which her baby's head was clearly visible. The former reality star wrote, "Super happy and excited", alongside the snap.
Fans congratulated Cheska - who was one of the original cast members - and her boyfriend, Thomas Huggett, on their baby joy as the news broke.
Last night, Binky confirmed that she would be leaving the popular reality show, explaining that she was now at a different stage of her life.
She shared a photo montage to Instagram, writing underneath: "So guys, it's the season finale of #madeinchelsea tonight at nine! Was quite an emotional episode for me as this is my last full series filming after a magical six years.
"Looking back to the very first episode and my first scene I filmed with Ollie and Cheska, it's amazing and seems fitting I could end my time on the show with them as you will see tonight," Binky added.
However, the reality star will be getting her own spin-off show with boyfriend Joshua Patterson (JP) which will focus on them becoming parents for the very first time.
Binky told fans: "I'm not going away though, you can still follow my personal journey, so keep your eyes peeled for what's coming up!"
The new show will also air on E4 and will comprise of two one-hour episodes, which will capture moments from the weeks leading up to the birth and after the birth.
The couple's celebrity status will be downplayed for the show, and the focus will be on them becoming parents instead.
It's thought the show will be similar to ITVBe's The Mummy Diaries, which saw former TOWIE star Sam Faiers become a mum for the first time.
However, The Mummy Diaries featured Sam's life as a public figure; whereas Binky's new show is expected to see her withdraw from the limelight and focus on being a mum.
With two MIC babies on the way now, it looks like there will be a new generation of Chelsea residents in no time!