This World Prematurity Day (17th November), TV personality, author and mother of premature twins, Tana Ramsay partners with Pampers to share her own experience of prematurity and the impact this is having on parents during the current pandemic
It is estimated that 35,000 babies have been born prematurely in England and Wales between March and October this year. While already facing a challenging start in life, Covid-19 restrictions limiting access to neonatal units – a few to as little as two hours per day, have led to fears that UK parents have missed out on thousands of hours of precious contact time with their premature baby and the ability to bond during a critical stage in their baby's development.
Prematurity can feel like a lonely experience for both a premature baby and their family. Parents may be experiencing a situation they never anticipated and with the added pressure of the current pandemic, these feelings of separation have been intensified. A survey of parents who have had a baby born premature or sick during COVID-19 found that almost two thirds (63%) have been left feeling isolated, with 79% saying that their mental health deteriorated as a result.
In light of these new challenges, this World Prematurity Day (17th November), Pampers is going beyond just product donations and has joined forces with Bliss - the UK's leading charity for babies born premature or sick - and vCreate - an in-hospital technology partner - to launch initiatives that work towards ensuring every premature baby and their family stay connected and supported during this intensely challenging and stressful time.
As the mother of premature twins, Tana Ramsay said: "When I unexpectedly went into labour with Jack and Holly at 33 weeks I was told that it could not be stopped and they would be born imminently - thinking I had at least another month and a half of pregnancy it was a total shock. That evening Jack and Holly were born and immediately rushed into intensive care where they stayed for a week followed by two weeks in the special care unit. Whilst it was a very distressing time for our family we were brilliantly looked after and encouraged to do as much as we could to help bond and feel totally involved even though they were in incubators - including being encouraged to hold the babies often, feed and do nappy changes. I can only imagine how stressful it is for parents who have not got the same access during Covid-19 when they are already emotionally stretched, and that's why I wholeheartedly support Pampers' efforts to help families stay connected during this difficult time."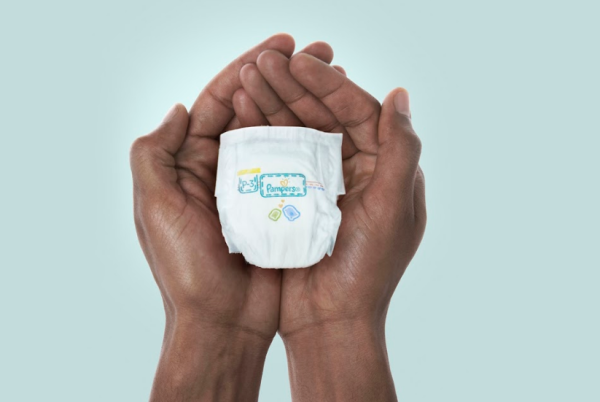 With the current restrictions in place across UK hospital units, vCreate has played a vital role in supporting families of premature babies by helping them maintain contact through the hospital staff caring for them, even when they can't physically be there. vCreate is an NHS trusted secure video messaging service used to minimise separation anxiety in parents of babies in neonatal wards. Pampers is supporting vCreate's work through the funding of tablets and Wi-Fi dongles that will be donated to neonatal wards across the UK. Ben Moore, founder of vCreate, said: "Our technology has taken on a particularly relevant role during the Covid-19 epidemic in mitigating the effects of family separation. Parents have indicated that use of our service has had a positive impact on their neonatal experience, enabling an enhanced emotional connection and an increased feeling of involvement in their baby's care[4]. We're thrilled to have Pampers' support in funding more technology for hospitals, allowing even more parents to benefit from the services we provide."
Pampers is also continuing to work with long-term partner Bliss, to support parents with the resources they need to help them feel more involved in their premature baby's hospital care. This comprehensive support aims to give even the tiniest of fighters the very best chance of survival and quality of life, while ensuring that those who care for them remain connected during these challenging times. Caroline Lee-Davey, Chief Executive of Bliss, said: "Covid-19 has meant neonatal units are facing new and unprecedented challenges in caring for premature and sick babies; with strict infection control measures in place limiting family involvement, it is feared that UK parents have missed out on thousands of hours of precious contact time with their baby. This early development time is key for premature and sick babies and so it has never been more important for us – with Pampers' backing – to support families in the care of their tiny baby."
Premature babies also have delicate skin and therefore need a nappy that offers skin comfort during those critical stages of their development. In addition to keeping premature babies and their families connected and supported, Pampers is continuing to donate its Pampers Preemie Protection nappies to UK hospitals. These nappies are Pampers' smallest offering and have been specially designed to fit and protect the delicate skin of babies weighing as little as 1.8lb, so parents who are missing out on contact time can feel reassured knowing that their babies have the skin comfort they need.
Ian Morley, Vice President of Sales, P&G UK, Ireland and Nordics said: "Since 2017 we have donated hundreds of thousands of our Preemie Protection nappies to hospitals. As a father to two girls that were born prematurely, I know how challenging prematurity can be when you want to be part of your little ones journey in the very early days after their birth. With these feelings compounded by Covid-19 restrictions, it has never been more important for us to lend a helping hand in caring for premature babies and making parents' neonatal experience a positive one."
This year, Pampers is asking the nation to help donate in support of families of premature babies. For every pack of Pampers nappies and nappy pants purchased on ASDA.com between 14/11/20 - 05/01/21 and in Asda stores between 09/12/20 - 05/01/21, Pampers will make a donation to Bliss to help these tiny babies have the best possible start to life. In addition, for every share on social media using #PampersforPreemies between 17th of November to 31st of December, Pampers will fund the donation of a tablet or Wi-Fi dongle to neonatal units through vCreate, helping parents stay connected with their premature baby even when they can't physically be there.
Pampers Preemie Protection nappies are available in sizes P1 (<5lb/ 2.7kg), P2 (<4lb/ 1.8kg) and P3 (<1.8lb/ 0.8kg), and will start to be donated to hospitals from January 2020.
To order free Pampers Preemie Protection Nappies today, UK hospitals are advised to contact pampers.preemies@sykes.com.