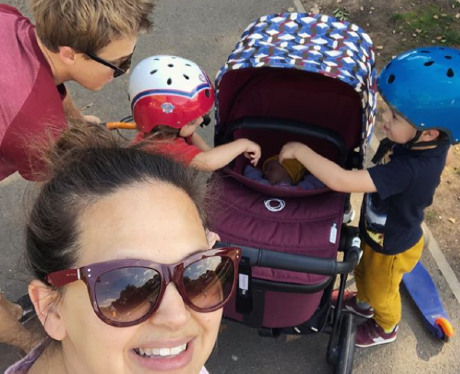 Giovanna Fletcher's Instagram keeps us up to date with how her growing brood gets on day-to-day.
We've seen parenthood in all its unfiltered glory through Gio's posts and her latest one is no different.
She uploaded a picture of herself and husband Tom, along with their three sons - Buzz, Buddy and latest addition, Max.
In the post, she explained how the family had done the near-impossible with three young kids - they had all left the house!
The 33-year-old described a scenario that will be all too familiar to many parents out there.
''We ventured out yesterday to see Tom's grandparents so they could meet Max, and today we went for a stroll at our local aquadrome... both times it's taken us forever to leave the house,'' she wrote.
With a four-year-old, two-year-old and a five-month-old, Giovanna didn't hold back when she wrote about what really happened in the lead up to their little excursion.
''There have been tantrums and meltdowns and today's 'stroll' was more of a speed walk thanks to us having to chase the boys on their bikes and scooters - but we did it.''
The adventure was a first for baby Max who, as Gio said, ''had his first experience of the fresh air and seemingly loved it... he slept through the whole thing!''
Well for some, eh?
Giovanna and Tom have been documenting the adventures that their expanding family have been getting up to, with Gio posting the sweetest snaps on social media of her ''lads'' all snuggled up together.
Us mums know the struggle of getting a bunch of kids dressed and out the door so we say bravo, Giovanna!