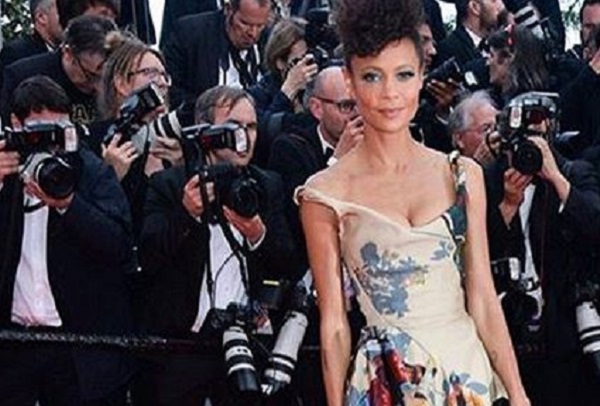 Bow down, ladies and gentlemen, because Thandie Newton just WON the Cannes Film Festival red carpet.
The stunning Westworld actress and mum-of-three made a serious statement in a Vivienne Westwood gown at the premiere of Solo: A Star Wars Story.
Thandie Newton's dress for the Cannes premiere of SOLO is printed with images from her personal collection of STAR WARS figurines. That's a move. pic.twitter.com/mkTNMn2Mzo

— Mark Olsen (@IndieFocus) 15 May 2018
On it she paid homage to the great Star Wars characters that came before her, in particular actors of colour.
The gown featured drawings of John Boyega as Finn, Samuel L. Jackson as Mace Windu, Billy Dee Williams as Lando Calrissian, Forest Whitaker as Saw Gerrera and Hugh Quarshie as Captain Panaka.
As the first black woman to have prominent role in the franchise, Newton plays the mysterious Val in the latest prequel.
According to Erin Walsh, Newton's stylist, the British actress wanted to "wanted to celebrate her role in the iconic history of the franchise". The print was made out of photographs of figurines.
Thandie Newton at the Cannes Film Festival wearing a dress that has black #StarWars characters on it. #Solo pic.twitter.com/tVBTPhVx7B

— Geeks of Color (@GeeksOfColor) 15 May 2018
"I'm the first woman of colour to have a prominent role in the Star Wars legacy." Newton said speaking to The Radio Times. "There have been others with one line and Lupita Nyong'o was a computer-generated character [in The Force Awakens and The Last Jedi], but you didn't get to see the colour of her skin. I'm the first. I'm going to have a toy and everything. It's exciting, but that's all I can say. It is a big deal."
Solo: A Star Wars Story is released in cinemas on the 24th of May.