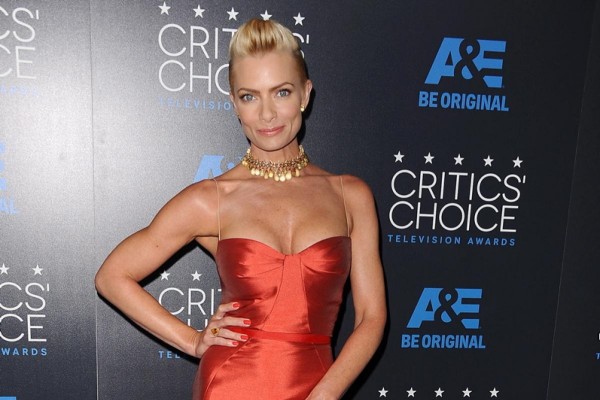 The weekend is within waving distance, and what better way to welcome it in than with some wonderful celebrity baby news?
Congratulations are in order today for US actress Jaime Pressly, who is expecting again!
The 39-year-old, best known for her roles in My Name Is Earl and I Love You, Man, has revealed that she and long-term partner Hamzi Hijazi are set to welcome twins.
Jaime took to Instagram to tell her fans that she had been 'Clearblue confirmed', sharing a photo of herself holding up her positive pregnancy test.
The actress, who is already mum to 10-year-old Dezi, wrote: "Big news for our family! Dezi's going to be a big brother, times two!"
She went on to share the all-important details in an interview with People, admitting that the news came as a 'shock'.
"Twins don't run on either side of our families, so we were completely shocked. This wasn't IVF or anything like that. It was just a shock, and I'm like, 'Doctor, that's impossible!'" she gushed.
It was the most welcome surprise for Jaime, though, as she added: "I've always wanted three kids, and the older I'm getting, I'm like, 'OK, maybe just one more would be nice.' I was getting a little sad, but it was like, 'We'll give you two in one.'"
And no one is more excited than little Dezi, who is already 'constantly kissing her belly'.
Jaime previously opened up about her experience with mastitis, and how it had 'mutated' into something more serious in the years after giving birth to her son.
Appearing on The Talk, Jaime said she endured excruciating pain with mastitis while breastfeeding Dezi. However, it wasn't until four years later that she began to worry, after finding what she took to be lumps on her breasts.
While a mastitis infection requiring a mastectomy is rare, it can sometimes lead to a systemic blood infection. In Jaime's case, she was left with scar tissue which had to be treated with a mastectomy.
"I still have some breast tissue left, but almost a full mastectomy. Thank God it wasn't cancer," Jaime added.
We're sending huge congrats to Jaime and her family on their wonderful news, and we're wishing her all the best with the journey ahead.