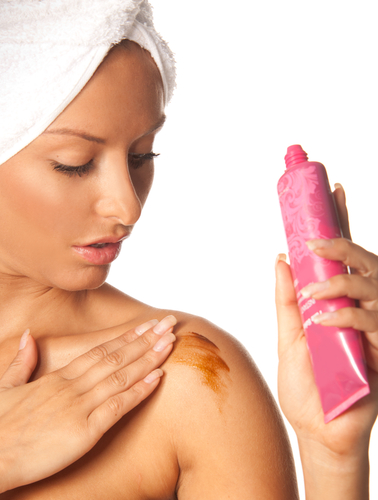 For a lot of mums, fake tan is a saviour for giving you that extra beauty boost.
However, not everyone gets it right - some can get it very wrong - so, to avoid any mistakes, follow our Tan Commandments:
Take off old tan
Don't apply fresh tan to old tan that has been there for a week.It is important you remove it first otherwise it will just cause a dirty build up.
Shave
If you are shaving your legs, make sure you do it the night before.
Exfoliate
Exfoliate your elbows, knees and any other areas where you are prone to dry patches like the tops of your arms. This will make your tan go on smoother.
Moisturise
If you have particularly dry skin you need to moisturise before you apply the false tan. But, don't put on the tan until all the moisturiser has been absorbed.
Use a mitt or glove
Make sure you use a mitt or glove. Not only will it prevent stained hands it makes it your tan go on a lot smoother.
Use small amounts
Only put a small amount on the mitt. The last thing you want is to go overboard on the lotion and end up having to spend ages spreading it all over you.
Work your way up
Start at your legs and work your way up to your arms and neck.
Don't rub
Don't rub the tan into your body. Instead use big circular movements.
Places to avoid
Don't apply the tan directly to your knees or elbows. Simply sweep over lightly with the mitt otherwise the tan will come out too dark there.
Blend well
Make sure you blend, especially at your ankles, wrists and toes.
Moisturise daily
After it has developed, apply moisturiser daily to keep the tan looking natural.