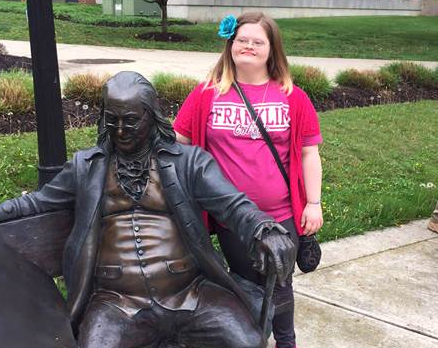 19-year-old Mickey Deputy has Down Syndrome.
That's why the Indiana girl was never sure she'd get to go to college like her peers. But earlier this week, she learned that she'd been accepted by her college of choice, and the elation is written all over her face.
Her mum was there to capture on camera the moment she got the good news, and you'll be grinning ear-to-ear watching the teen's smile get bigger and brighter.
"We are pleased to congratulate you on your…," she begins, before letting out a shriek of excitement.
"On your what?," her mum asks in the background, before Mickey responds: "Acceptance into our programme for the 2016-17 school year!"
Mickey will be attending a programme called 'Inspire', which is offered by Franklin College in Indianapolis. Its purpose is to give people with disabilities the best chance of finding work once their education is finished.
She had to complete a written application and an in-person interview in order to gain admission.
While one day Mickey hopes to teach dance to kids, for now she's just focused on the incredible next stage of her life.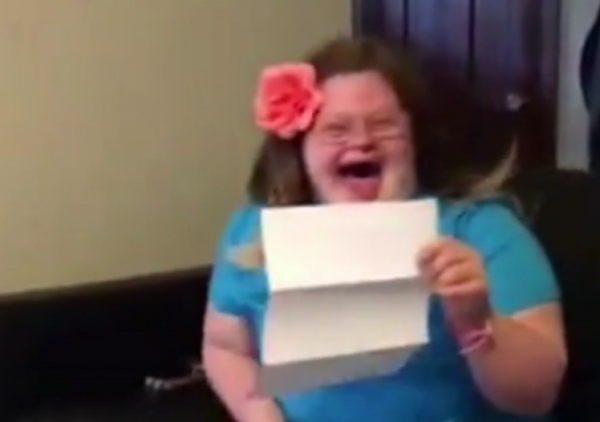 "I didn't know if I would get in," she told The Indianapolis Star. "I am most excited to get to experience the college life because I never thought I would ever be able to. And making college friends."
Touchingly, since her mum uploaded the video to the net, people have been messaging her non-stop to let her know just how inspiring they think she is.
She even had a personalised congratulations cheer sent by the Colts cheerleading squad – Mickey is a junior cheerleader with the team.
Mickey's achievements are all the more incredible given that she has had many medical issues over the years. Born with a heart defect, she had to undergo open heart surgery as a baby. Then aged seven, she was diagnosed with Leukaemia and underwent treatment for two whole years.
Her mum is over the moon that she's made it to this stage.
"When she was younger, there were point we weren't even sure she'd survive," said mum Jenny. "Through heart surgery, cancer and everything, so college honestly wasn't on our radar at the time. It's amazing that she's managed to do so well. I'm so proud of her."
Watch the fab video below.
SHARE if this warmed your heart.