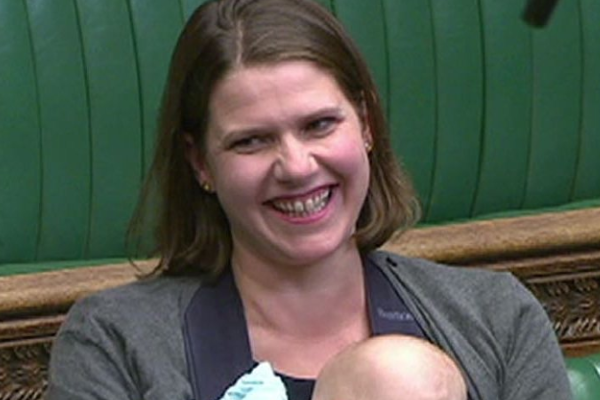 History has been made in the House of Commons by MP, Jo Swinson and her son.
The former minister is the first MP to bring her baby to work.
Her newborn, Gabriel made his debut during an active debate on proxy voting for MPs on maternity or paternity leave.
Current parliamentary rules state that MPs must be present in person to cast a vote. This is clearly a significant obstacle for new parents tending to their newborn in the hospital.
Gabriel, @joswinson's newborn baby is in the chamber! pic.twitter.com/xnmkiI8NSa

— Robbie Hawkins (@R_Hawkins93) 13 September 2018
Deputy Lib Dem leader, Ms Swinson was present to hear the closing remarks on the issue.
The discussion was debating on whether or not MPs would be allowed to nominate a colleague to vote on their behalf.
However, the move was a "too little, too late," for Ms Swinson, who welcomed Gabriel during the summer.
Mother of the House @HarrietHarman has gone to sit with them both pic.twitter.com/2ZRHGN96Gt

— Robbie Hawkins (@R_Hawkins93) 13 September 2018
During the general debate, she said: "This House first resolved that members with small babies should be able to vote by proxy seven months ago – since then Gabriel, Elijah and Solomon have been born and two more Commons babies are on the way."
"A cynic might conclude that because all five pregnant and new mum MPs are on the Opposition benches, the Government is trying to kick this issue into the long grass and after what happened to me in July I think I might be able to be forgiven for being cynical about the Government's motivations," she added.

Ms Swinson wasn't the only parent in parliament to make an emotional plea. SNP MP David Linden (Glasgow East) addressed the house and explained how his wife is preparing for a caesarean section at the weekend.
Watching the debate on #proxyvoting in the Commons accompanied by baby Eli and his new favourite toy Freddie the Firefly as we cheer on all those campaigning for a modern parliament and thank @joswinson for the mention just now! pic.twitter.com/Wy3UIRP9ny

— Cat Smith (@CatSmithMP) 13 September 2018
After a complex pregnancy, the MP stated that due to the nature of the birth, he won't be able to attend parliamentary business next month.
The newest member of their family was due on October 21, but Mr Linden said the baby will be born via "C-section the day after tomorrow."
"For me, proxy voting is something that is incredibly personal because I am now in that position where I know that the first week back there'll be a second reading of the Agriculture Bill – I will not be here to vote on that," he said.
The MP asked the Government to "get on with it," as there was a "clear consensus" to pass the new procedure.