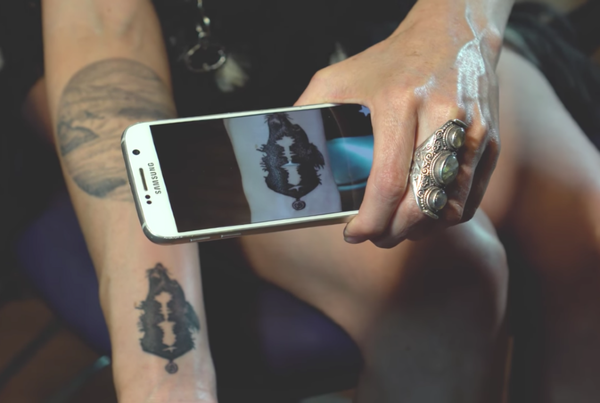 Welcome to the future, ladies.
We secretly, or not so secretly, love tattoos, and think that they're a delightful way to show how much you love something (Disney tattoos, anyone?)
Well, there's a new trend in tattooing that actually includes sound waves, meaning that you can actually hear them - crazy right?
Anyway, the genius behind this new ink trend is Nate Siggard, the founder of a new company called Skin Motion, who has reportedly created sound wave tattoos that, when combined with an app, can play audio.
Apparently, the idea came to Nate after a customer requested the first line from Elton John's "Tiny Dancer." Nate's girlfriend, Juliana, said, "Wouldn't it be cool if you could listen to the tattoo?"
With that in mind, the tattoo artist decided to try it, and he recorded Juliana and their four-month-old daughter's voices saying, "I love you."
From there, Nate found a way to pair the sound wave piece with playback technology - something we are in absolute awe of.
Still a bit perplexed by how it actually works?
Basically, you upload a sound clip into an app, then purchase the generated Soundwave Tattoo. From there you will require the ink to be applied by a certified Skin Motion artist, as it is a specialised procedure (obviously).
Then, after you're all inked-up, you can listen to the clip any time you like by accessing the app and holding your phone over the design.
How cute is that? You could get such a meaningful tattoo using this technology!