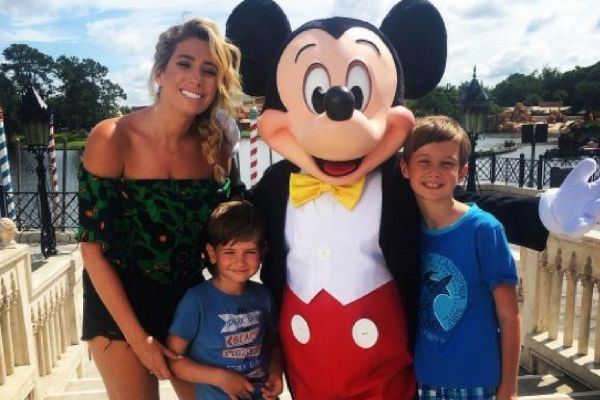 Stacey Solomon has revealed that she can't ever see herself allowing her sons to use social media.
She said she's concerned about how their body image could be affected by viewing air-brushed images on social media.
Speaking about her young sons Zachary, nine, and Leighton, three, during a candid chat on Loose Women, Stacey said social media use is a major worry for her.
"Kids are being conditioned from a really young age about what their bodies should look like," the X Factor star said.
"The 24-hour nature of social media along with the constant stream of air-brushed images on TV and in magazines is encouraging girls, in particular, to strive for an ideal which doesn't exist in reality.
"And every single action figure my boys play with – the Batmans, the Spidermans and the Supermans – has a six-pack and an immaculate body, none of them have got average bodies."
Stacey conceded that she can't see herself ever allowing her boys to use Instagram or Twitter, even when they are much older.
"I don't let my boys have social media, and try and shelter them as much as I can. There is absolutely not an age when I will let them have social media," she insisted.
Stacey recently took to Instagram to share two photos of herself side by side, to highlight how deceptive social media can be. One photo showed Stacey barefaced, and the second with full makeup and fake eyelashes professionally applied.
"This is how I turned up for work (left), and how I went home (right). Black eye, period skin, and just washed, haystack hair," Stacey explained to her followers.
"Turned into no black eye, flawless skin and soft wavy curled hair.
"I thought I'd put this up just to give anyone who wants to know a bit of reality about the difference that hair and make-up makes, not to mention lighting and filters etc.," the Dagenham singer explained.
"So, the next time you look at somebody in a magazine or on TV, or just in your social news feeds, and think, 'God I wish I looked like that', just think of me and what I really look like underneath all of the sorcery!"
Do you share Stacey's opinions on social media, mums? Let us know.