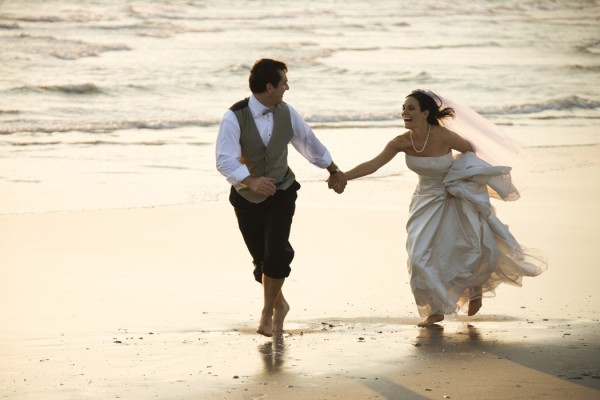 If you've ever been invited to a wedding abroad, you'll know how painful it can be. You don't want to offend them, but you hate flying, you can't take another week off work and, oh yeah, who the hell has that kind of money just lying around?!
Knowing how tough weddings abroad can be on people, this Australian couple decided to let their guests know that they completely understood if they couldn't make it…but they did it in such a funny way that you'd nearly worry you'd be missing out on the best wedding ever!
Michael and Wendy, a young couple who currently live in Melbourne, are getting married in China later in the year. Michael is Australian and Wendy is Chinese, so they decided to get married abroad where most of Wendy's family are.
For the invitations for their Australian guests, Michael decided to get a little creative with the RSVP card.

The RSVP asks guests to indicate if they can attend the wedding or not, and then select the most fitting reason.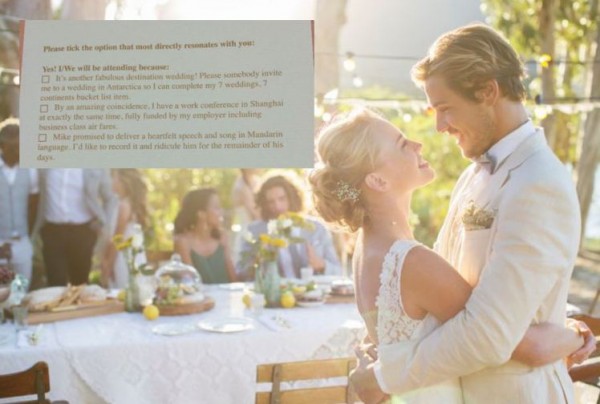 'Yes! I/we will be attending because by amazing coincidence, I have a work conference in Shanghai at exactly the same time, fully funded by my employer including business class airfares,' one option reads.
Another decline option pokes fun at Western choices when eating Chinese food, suggesting they are not attending because they are 'stricken with fear' that the wedding banquet won't include 'honey chicken or beef and black bean.'
This one's not bad either. 'I'm a wanted fugitive in China,' it says.
'It was an innocent mix up. I kept yelling "fork" as I can't get the hang of those blasted chopsticks. I don't know how this was misinterpreted, but I admit that using an escalating tone, waving my index finger and stamping my feet was ill-advised.'
But our favourite is this one, which basically says 'no, because it's in another bloody country!
'No, I/we will unfortunately be unable to attend because it's another f******' destination wedding! Back in my day, it was reasonable to decline in Yarra Glen on the grounds of distance and the cost of a bus fair,' it reads.
You can read the hilarious invitation in full below.
Husband's best mate is getting married in China. Best RSVP card I have ever seen! pic.twitter.com/078pjjo4C9

— Beck (@aBecksLife) March 2, 2016
SHARE to spread the word to your friends planning that sun wedding.