One mum has explained why we shouldn't shame parents when their kids aren't wearing winter coats.
The post, which was shared on Reddit, wrote a stark reminder not to parent-shame those who don't bundle up their children, as they could have a valid explanation.
Many parents are judged when their baby or toddler appear to be inappropriately dressed to handle icy weather, yet maintaining the effectiveness of car seats is the actual intention.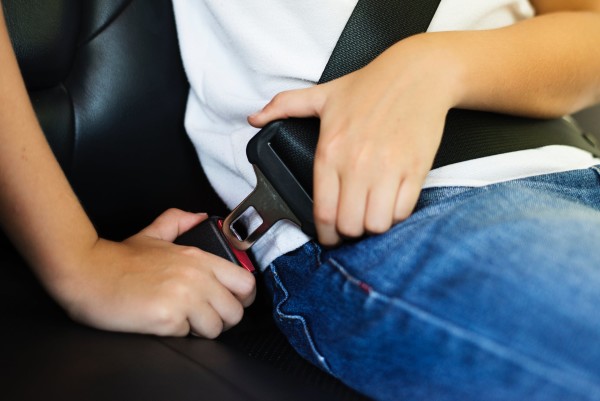 The post reads; "If you're out and about and see a parent with a baby/toddler who isn't wearing a coat, please don't assume that parent is some kind of monster who doesn't care if their kids freeze,"
"New car seat guidelines avidly warn against children wearing coats in car seats - and this makes it really challenging for caregivers (particularly those with multiple small children) to get kids out of the house then in the car then out of the car again and into the destination."
"So what I'm trying to say is, cut parents some slack," the post finishes. "We're trying. And we're doing everything we can to make sure our kids are warm while maintaining our sanity."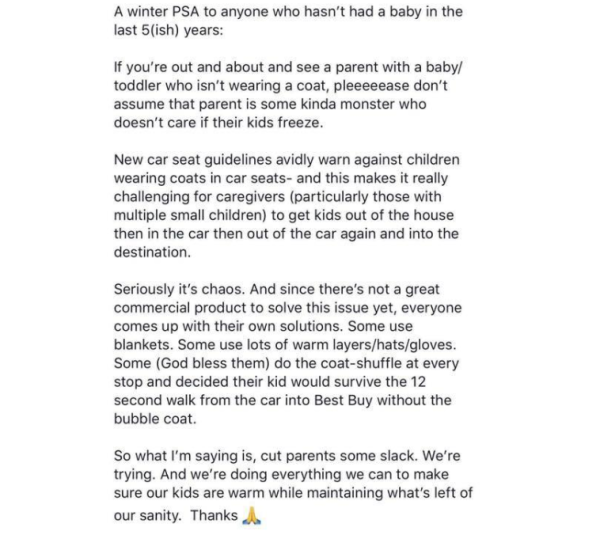 The American Academy of Pediatrics (AAP) states that: "As a general rule, bulky clothing, including winter coats and snowsuits, should not be worn underneath the harness of a car seat."
The reason for this is that if a car crash occurred, the heavy padding would flatten from the sheer force and would leave extra space inside the harness, which could lead to a child being thrown from the seat.
This excess room could very possibly endanger a child, even if the straps appear tightened enough over the winter coat.
The problem of properly clothing children has clearly resonated with other parents online, who up-voted the post over 2000 times. The layers have to be removed each time their child is put in the car seat.
Another mum wrote: "Thank you for giving me peace of mind. I worried if I was a bad mum by doing this but I'd rather them be slightly chilly for ten seconds than to be severely hurt if we were ever in an accident and they had their bulky coats on."
Other parents wrote that they use fleece blankets instead of heavy coats in the car, so they are wearing the right clothes for their seatbelts to work but aren't chilly from the cold.
Mums and dads were encouraged to try to use brands who create car seat-safe ponchos.
The AAP recommends hats, gloves, and blankets to keep a child warm in their car seat, but claims that these layers must go OVER the child's seatbelt, not underneath.
Keeping up to date with the safety requirements of cars is imperative for any child's parents.