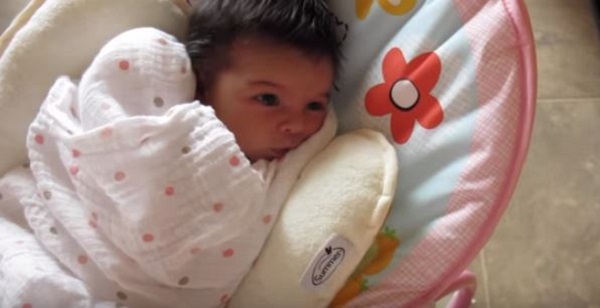 It was just two months ago that a Reddit user sent the social networking site into meltdown, all over a picture of her newborn baby cousin and his HUGE head of hair; now, yet another couple has jumped on the 'trend'!
YouTube vloggers Michael and Andrea Butler have watched their baby daughter, Coral, become an internet sensation this week, after a photo of her blew up online.
As beautiful as the tot is, it's not her adorable face that people are so captivated by – it's that gigantic mop of hair on her head!
You can see more of Coral on our (almost) daily vlog on YouTube... https://www.youtube.com/mikeanddrea
At only two months of age, little Coral has more hair than some grown adults (as revealed in the Imgur comment section), and her brunette mop has become quite the talking point.
The shot has already garnered in excess of a whopping 770,000 views on the image-sharing site, and has launched quite the conversation.
"People keep saying my son has a lot of hair for his age (nine months) – it ain't close to this thickness," wrote one site user.
Meanwhile, plenty of others observed that mum Andrea must have endured her fair share of heartburn during the pregnancy!
SHARE with a fellow mum whose little darling has a similar crop of hair.