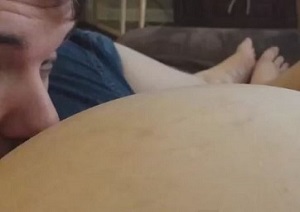 There have been some gorgeous pregnancy videos shared in recent times, and this one is right up there with our favourites after today.
For those who may be sceptical about how much a baby can hear when they're in the womb, this video is definitely one to watch.
A couple has shared a very special moment from their pregnancy journey, documenting what happened when the dad-to-be started 'blowing raspberries' against the mum-to-be's blossoming baby bump.
We can't decide whether we prefer the baby's amazing reaction to his dad's mischief, or his mum's own fantastic response.
Check out the video below, and prepare to have your heart warmed.