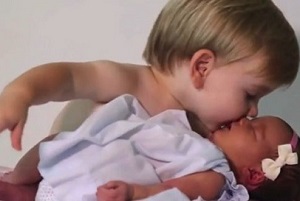 We're warning you well in advance – you might want to have the tissues to hand, because this is possibly the sweetest, most beautiful video that we have ever seen.
When a North Carolina couple welcomed their first daughter into the world recently – a little sister to their six sons – they decided to capture her settling-in period in their home.
Each boy, aged from 13 right down to two, got to hold precious little Ruby in their arms and share their thoughts and feelings about her for the camera.
As you can imagine, the couple captured some of the sweetest moments and interactions imaginable, with plenty of cuddles and kisses involved.
While tiny little Knox can do nothing but kiss his new sister, adorable Sawyer pledges to protect Ruby forever, and eldest Jackson admits that he is just interested to see how things work out!
This is just gorgeous. Check the video out below.