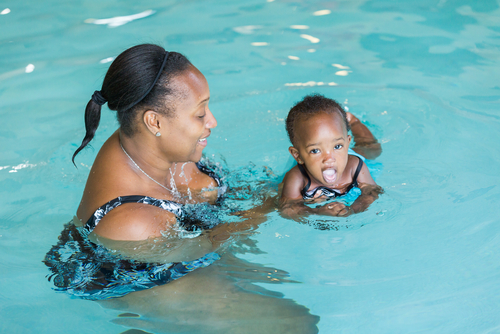 Swimming is fun, relaxing and a great way to spend time with your baby. If you are planning on bringing your baby to the pool, have a read of the following tips and advice to ensure you both have a healthy, happy time.
Know the right age
You should wait until your baby is between four or six months of age before taking them to the pool as they can become quite cold when being taken in and out of the water.
Don't go straight after a feed
Wait for about an hour after your little one's feed before heading to the pool. Otherwise they might become sick.
Keep them in the water
Avoid taking them in and out of the pool and keep the water at their shoulder level to avoid them getting a chill.
Hold them close to you
For the first few times your little one might be feeling a little anxious so keep them close to your chest until they become familiar with the water.
Make it fun
Make sure you show your baby that the water is fun so laugh, smile and stay relaxed. If you are feeling nervous they will pick up on it.
Wash them well after their swim
Make sure you rinse your little one after every swim to remove any chlorine from their skin.
Put a swim nappy on them
Make sure your little one has a clean swim nappy on before getting into the water as it can help prevent accidents. Most swimming pools won't let your baby into the water if they don't have one on anyway.
Don't bring them if they are sick
It is important you don't bring your baby to the pool if they are sick, and that you wait at least ten days after they are better before going again.
Put a buoyancy aid on them
While you aren't very likely to let go of your infant whilst they are in the water, be extra safe by putting a buoyancy aid on them. You can buy a special swim suit that comes with floaters fitted in already.
Only swim in clean water
Make sure you can see the bottom of the pool before you get into it.
Avoid swallowing the water
Try to avoid letting your youngster swallow too much or any of the water.