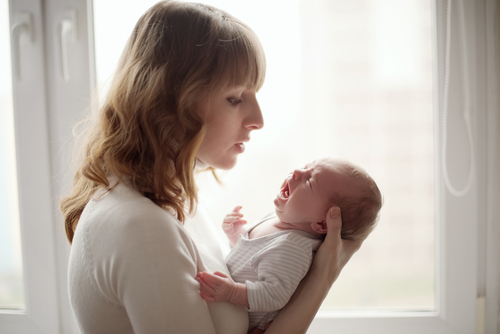 Colic is quite common in young babies and describes excessive, intense crying generally at the same time each day. They will also clench their fists, arch their back, pass wind or cry during feeds.
Usually starting in the first few weeks after birth, it can be last for three or four months, and during this period your little one will cry inconsolably for a period of time.
There is nothing more distressing then watching your little one struggling with colic and while it is difficult to treat the issue, there are a few things you can do to help them to feel a little better.
Offer a soother
While giving your baby a soother is entirely up to whether you want them to have one or not, the sucking sensation can help to soothe them.
Go for teats with the right size
If you are bottle feeding, try a new sized teat. The hole at the top of the teat helps the flow of the milk and determines how much air they are going to swallow, so try various sizes to see which one suits your little one more.
Keep them moving
Pop them in their stroller or even in their car seat and go for a walk or a drive. Sometimes the motion of a walk or the car can help to soothe your youngster.
Burp them after every feed
Make sure you burp your little one after every feed, so pop them up on your shoulder and gently rub or pat their back until they burp.
Gentle massage
Skin-to-skin contact is a great way to soothe your little one so gently rub their legs, arms, chest and back.
Put baby in a warm bath
A warm bath can also help to make them feel a little better, but don't use this if they are really distressed.
Hold them close
Sometimes all they need is a cuddle from their mum so hold them close and gently rock them.
Put them in a sling
A sling keeps your baby close to your chest offering them security and your movements may help to soothe their pain.
Put on some background noise
White noise can help your little one feel like they are back in the womb so put on the vacuum cleaner, put static on the radio or even put the kitchen fan on to help soothe them.