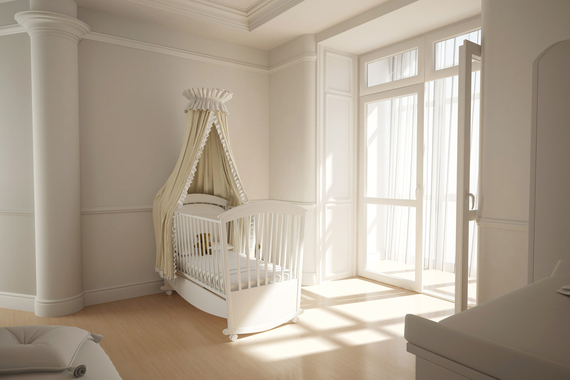 Your baby's nursery is the one room where you can go a bit wild when decorating, but you still need to get the basics right. Follow these tips to make your baby's space as perfect as possible - and when it comes to the more cosmetic stuff, remember to have fun.
Wallpaper tips
The professionals make wallpapering look easy, but it's actually not. You need to prep the walls by sanding it down to remove paint, remove any dust, and wash the wall with a household detergent and let it dry. If your wall is bumpy, even it out with drywall, a primer or lining paper.
It's good to plan where each strip of paper will go, as you don't want the final strip, which may not match up with its neighbouring strip exactly, to be on a prominent wall. Plan so it will be next to a door frame or window, it'll be less noticeable. Also, make sure your first strip is straight by using a spirit level.
Paint tips
As with wallpapering, you need to prepare your wall before painting it. Fill in any cracks or holes, and make sure it's clean. Using a primer is a good idea, as it will cover any stains, and it'll help the paint last longer. Use tape to cover skirting boards or window sills you don't want to splash.
Chalk board paint is a great idea for kids' rooms – it's not a bad idea to put a frame around the wall with the chalk board, just so children know that not all walls can be written on.

Choosing the floor
It's good to have something that's easy to clean as babies can be messy. If you use rugs, remember to stick them down as you don't want to trip over them when you're carrying your baby.
Think long term
You can get lots of accessories to make the room décor suit your baby's current stage, but all the staples such as wallpaper or wardrobes should be enough for your little one for now. It's important to think of long term plans when it comes to your child rooms, especially when it comes to making changes three years down the line when your baby is no longer a baby. It'll save you time in the long run, not to mention money.