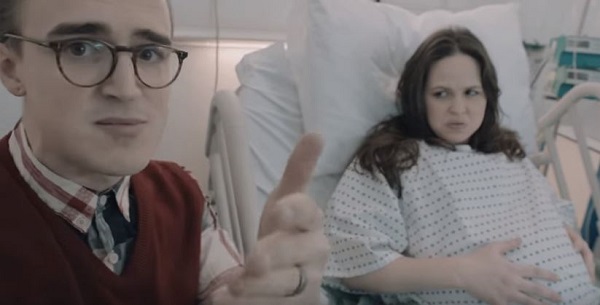 They are known for their oh-so adorable videos, which are often so romantic that they leave us in tears, but we reckon Tom Fletcher and wife Giovanna have outdone themselves with their latest offering.
Marking the release of his new children's book, The Christmasaurus, Tom had been scheduled to make an appearance at a Penguin Random House event – but a certain major life event, namely the impending birth of his second child, prevented him from attending.
Instead, the conference was hooked up via a Skype call to a hospital delivery room – where Giovanna appeared to be in labour!
Before you go jumping to conclusions, thinking that the McFly singer has lost the run of himself, it was all a very elaborate trick – but the serious side-eye Giovanna gives Tom from her hospital bed would almost make you think otherwise!
Once Tom whips out the ukulele, and the nurses break into song, it's not long before the entire hospital is up on their feet celebrating the book launch – and how fitting is it that Santa Claus 'delivers' the 'baby' at the very end?
Of course, Tom and Giovanna did welcome their second child, a son named Buddy, on February 16.
This is just too good – check it out below.
SHARE if this is your favourite Fletcher family video so far.