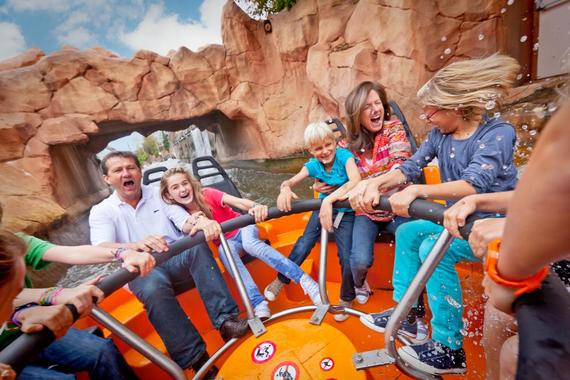 If you are looking for a holiday with a difference and a little more action, then Europe is home to some of the best family theme parks in the world.
1. Disneyland, Paris
Just three and a half hours drive from the Eurotunnel Le Shuttle Calais Terminal, Disneyland is one of the most popular theme parks in Europe. The park is jam packed with 56 attractions in its Disneyland Park and Walt Disney Studios, seven hotel complexes, a ranch, a campsite, a golf course and stunning gardens.
Opening times: Normal hours are 10am-7pm but the park stays open until 11pm during peak times.
Ticket prices: Children between the ages of 3-11 years inclusive are £45/€55.
2. Walibi Park, Belguim
Walibi is Belgium's most famous theme park with over 50 attractions including a wide range of thrilling rides and roller coasters to satisfy all thrill seekers and over 15 different attractions to keep the kids entertained. The park is situated in Wavre, 15km south east of Brussels and is set around a huge lake allowing easy navigation around the park.
Opening times: Generally 10am-7pm in mid-July and August. The park opens from late April to early November, and for the rest of the year it is open only on weekends.
Ticket prices: Children 5 years and under go free, children between the ages of 6 and 11 are €28, and adults and children over 12 years of age are €30.50.
3. Parc Asterix, France
Parc Asterix, situated around 30km to the north of the capital, is one of France's most famous theme parks. It brings to life one of France's most loved and well known comics - The Adventures of Asterix. It has a range of attractions, shows, restaurants and even a hotel. It appeals to all ages, with something for everyone and incorporates several historical cultures in a fun and quirky way. There are five worlds to discover: Gaul, The Roman Empire, Greece, The Vikings and an area entitled 'Travel through time'.
Opening times: Generally open from 10am-6pm. The park is open daily from April to September and October - November. From 10th September to 16th October, the park is open weekends only.
Ticket prices: Children under 3 years of age are free, children under 12 years of age are €30, and adults are €40.
4. Efteling, The Netherlands
One of the oldest theme parks in the world, Efteling is situated in the town of Kaatsheuvel and has attracted over 100 millon visitors. The park brings well-known fairytales to life with its forest scenes, rides and attractions. The park offers amusement rides for both children and adults with high-quality ride designs and architecture.
Opening times: Generally 10am-6pm and closing time is extended till 9pm in July and August. The park is generally open all year round but some of their attractions are closed in the winter months.
Ticket prices: Around €32, or €34 during peak season.
5. Festyland Parc, France
Festyland Park is a small amusement theme park located on the south side in Caen, Normandy. It has over 30 attractions such as a medieval castle and two cinemas. The ride Erétic is a major attraction where visitors are spun round on a circular platform which swings up to 25 metres into the air. The Drakkar Express is an exciting rollercoaster where visitors sit in cars that are designed as Viking ships.
Open times: 10am - 7pm.
Ticket Prices: Adults - €12. Under 12 - €10. Children under 95cm go free. However It is a good idea to check for special pricing and discount savings for groups.
6. Bagatelle Theme Park, France
The oldest theme park in France is situated a few kilometres from Merlimont and Le Touquet in the Pas de Calais. The theme park is set within an area of scenic woods, hills and former acres of flat marshland at the back of Berck seaside resort. The 43 attractions at this traditional family park include white knuckle rides and many breath-taking experiences such as a zoo, water rides and a Grand Prix circuit, water slides and bouncy castles.
Opening times: July - August: 10.30am - 9.30pm, or 10.30am - 7pm in April, May, June and September (only open at weekends during September).
Ticket prices: Adults €19.50 and children from €16.50. However if you book seven days in advance to visiting the park you will get a discount.
7. PortAventura, Spain
Located in Salou in northern Spain, PortAventura is a world of adventure that is just waiting to be discovered. It is not a huge theme park but the four spectacular rides that it does have, will entertain the kids for hours. There are some smaller rides for the children too, so don't fear - they won't be left out.
Opening times: The park is open from 10am to 10pm during peak season.
Ticket prices: Tickets start from €23.
8. Europa Park, Germany
The fact that Europa Park is home to the tallest rollercoasters in Europe is enough for it to earn its place in the best theme parks around. The most popular rollercoaster is called 'Silver Star' and many flock to it daily, with amazing views at the top. There are lots of other exciting rides in Europa Park, and some a little smaller that would suit younger children.
Opening times: 9am - 6pm during peak season.
Ticket prices: Children free up to three, €36 for children in summer, and €41 for adults.
9. Liseberg, Sweden
Liseberg is situated on top of a beautiful hill in Gothenburg, Sweden. There is an amazing train ride that actually goes along the hills and beneath other rides in the park and that is an experience not to be missed. 'Balder' is a wooden rollercoaster and it might be one of the reasons why this theme park is so popular, as it is often claimed to be one of the best in the world.
Opening times: 10am - 7pm, but time vary during peak season.
Ticket prices: Tickets start from €10 per child, or €45 for an all day pass.
10. Tivoli Gardens, Denmark
The stunning Tivoli Gardens in Copenhagen is one of the oldest theme parks in the world, and is actually home to one of the oldest rollercoasters too. Tivoli Gardens is laid back and beautiful but it has lots of rides for different tastes and levels of thrill seeking. Built in 1843, it was said to be among Walt Disney's inspirations for Disneyland. It is as much a cultural centre and botanical gardens as an amusement park. This is a must go to location if you are staying in Copenhagen.
Opening times: 11am - 11pm during peak season.
Ticket prices: Tickets vary, but start from €20.
Image via Pinterest