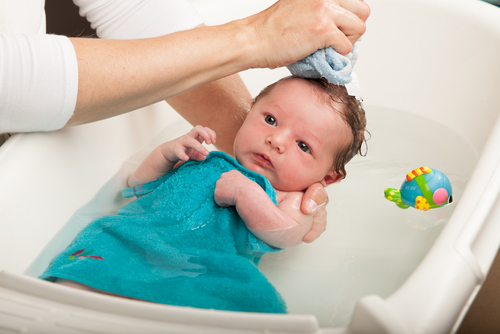 For many mums, giving your baby a bath for the first time can be daunting experience. Here are some tips on how to bathe your baby.
Choose a warm room and have a towel, a fresh nappy and a change of clothes ready for afterwards.
Fill a baby bath with a maximum of three inches of water. Check the water temperature by dipping your elbow into the water, it should feel warm but not hot.
Support your baby's head against the crook of your arm catching her under her arm with your hand. This way baby's head and neck are supported at all times, she cannot slip away from you and you have one hand free to wash her. Slip her into the tub feet first.
Start by gently washing your baby's face and then continue to the rest of her body. Lastly wash your baby's scalp and hair.
Lastly, wrap your baby in a towel and pat dry. Remember to dry between the toes, fingers and folds of skin.