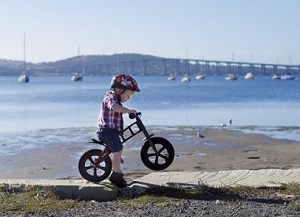 With summer officially upon us, and the warmer weather starting to make an appearance, it's time to start thinking about outdoor activities.
When it comes to getting out and enjoying the fresh air, nothing is more enjoyable for a child than riding their bike, and FirstBIKE has some expert tips for teaching your child how to master the art.
1. Start with a balance bike
It's important to get the basics such as balance perfect, and a balance bike can help you and your little one to do this. Balance bikes have no pedals or stabilisers and are much lighter than pedal bikes. With a balance bike, children use their feet to balance and propel themselves along, allowing for kids as young as two years to learn how to balance without parents' coaching.
2. Start on the flat and work your way up
The ideal place to ride a balance bike is a park or a quiet area with no traffic. Get your little one to start on a flat terrain and, as they get more confident and accustomed to their bike, you can then move onto small hills.
3. Teach them about their brakes
Learning to break is extremely important, and children of two-and-a-half to three years of age will be able to operate a hand brake that is gentle enough for their fingers. First, set the example by showing your child how to use the brake; then get them to practice.
4. Always wear a helmet
Safety is of the utmost importance, and it is crucial to teach this to your little one from a young age. Ensure your child is wearing a helmet from the moment they start learning to ride their balance bike, as this will get them into a good routine going forward.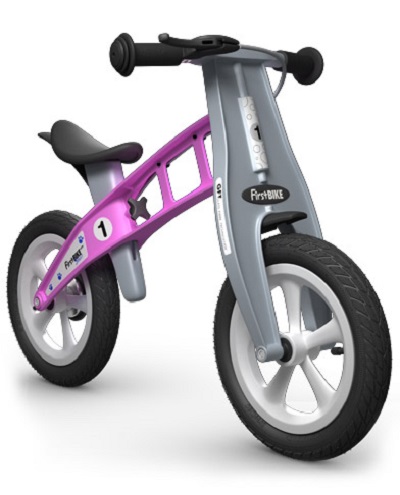 5. Look for safety features
Check the bike out for safety features such as handlebars that limit the steering angle, and "steering limiters" which can prevent rough falls for your little one. Also, keep an eye out for bike models which may have sharp edges or protruding screws, which may end up hurting your child.
6. Choose a model with an adjustable seat
Children benefit from the security of having their feet flat on the ground, so be sure to invest in a model that has an adjustable seat. As a rule, when your child is sitting on their balance bike, their feet should be firmly on the ground, with the knees slightly bent.
7. Choose the right safety gear
The helmet aside, it's important to ensure that your little one has all the right safety gear for a secure bike ride. It is recommended that they wear brightly-coloured safety vests, ideally with reflective elements, for visibility. When it comes to footwear, their toes should be covered and ankles strapped in.
8. Upgrade to a pedal bike when they are ready
Typically, at the age of four or five years, children can navigate a pedal bike without stabilisers. After learning the basics of balance, braking and safety on a balance bike, the transition to a pedal model should be natural and smooth.
FirstBIKE offers an award-winning range of balance bikes designed with safety first for children aged two to five years. Their range starts from £94.99, and the bikes come in many different colours.
To see the range, and to find out more information on FirstBIKE, visit the website at
www.first-bike.uk
.