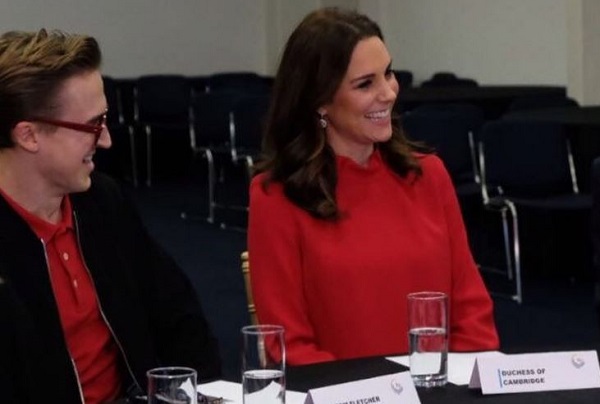 He's a member of one of the biggest pop-bands of all time. He's the man behind some of the sweetest viral videos on YouTube. He penned one of the most popular children's books of the year, and now he's Kate Middleton's fashion inspiration.
Tom Fletcher has shared a hilarious photo with his 1.5 million Instagram followers. The All About You singer shared a photo where he is sitting beside Kate Middleton.
In the photo, the beaming pair are both wearing black and red outfits, Tom wrote, "P.S. we don't always wear matching outfits."
Both Tom and Kate were attending the Children's Global Media Summit in Manchester yesterday.
The Shine A Light singer shared that he was thrilled to sit beside Kate at the event.
He said, "I had the honour of sitting next to Her Royal Highness the Duchess of Cambridge today at the Children's Global Media Summit discussing the future of children's media."
We're sure Tom and Kate had plenty to chat about as their sons Buddy and Prince George are similar in age.
Tom revealed that they spoke about empathy and kindness during the event.
Fans were overjoyed to see the McFly member sitting alongside The Duchess of Cambridge.
One wondered if Kate was a secret fan, "Most likely arranged to sit next to you. A closet McFly fan?"
Another wrote, "I bet she went home and said, today I had the honour of sitting next to Tom Fletcher."
One fan praised the best-selling author, "She should have been honoured to sit next to you. You have done so well you should be proud of yourself."
Do you think Kate and Tom organised some future play dates for Prince George and Buddy? How cute would that be!