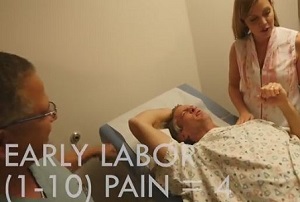 For any mum who has ever told her husband "you have no idea what I'm going through" while in labour, this could soon be a thing of the past!
The Holderness family, who have already brought us a series of hilarious parody videos, decided to take on an interesting new project which saw dad Penn 'going into labour' for Mother's Day, which is coming up this weekend in the US.
Enlisting the help of a doctor and some clever technology, Penn got to experience each stage of labour pain while his highly amused wife watched on.
While Penn may seem pretty optimistic at the beginning of proceedings, as soon as the first contractions begin you can tell that he is starting to question signing up for this very special project.
By the time the 'labour' has subsided however, Penn has turned the tables on his wife, jokingly saying: "I felt, like, mad at you, the whole time. And you weren't doing anything but trying to support me, but you didn't understand what was going on right now. So do you know how it feels to be a husband now and get shouted at?"
Check out the video below and let us know what you think.