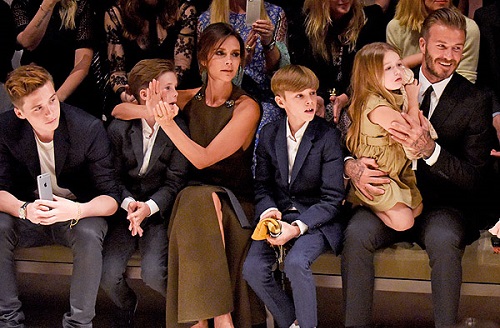 They have just arrived home to Britain from the US, so it's only natural that the Beckham clan want to make the transition as smooth as possible – and it looks as though they have a little help from the newest member of the family.
Fashion designer Victoria took to Instagram this evening to introduce her fans and followers to the little cutie who is at the centre of attention in the Beckham household right now – their new dog, Olive!
Sharing a black-and-white photo of a beautiful pup, the former Spice Girl wrote: "Meet Olive Beckham x Our new baby x."
Victoria and David's eldest son Brooklyn also shared an adorable snap of Olive settling in at home, cuddling up under David's tattooed arm.
"A new member to the family," the teen wrote in the caption, introducing the gorgeous puppy.
Little Olive's arrival couldn't come at a more exciting time for the family. Not only have they just returned home to the UK, but they are also celebrating Brooklyn's cover shoot for Miss Vogue magazine.
Ever the doting dad, former footballer David took to his own Instagram account to pay tribute to his son.
"So proud of my little man (not so little anymore)…Issue out next week," wrote the 40-year-old, next to a snapshot of the magazine's cover.
Celebrations all around, then!