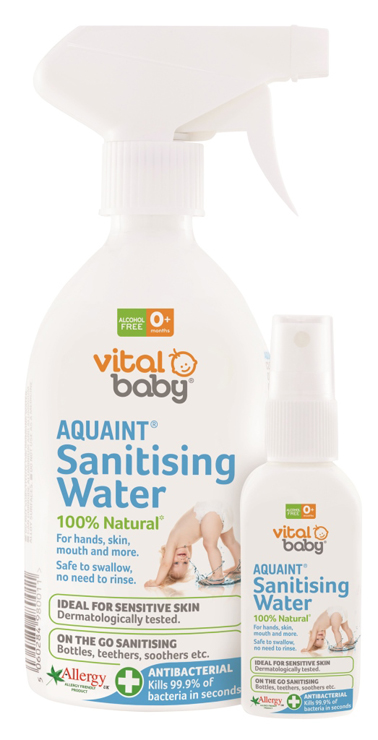 Just had a baby? Worried about bacteria and germs? Vital Baby Aquaint Sanitising Water is the solution to all your woes.
Vitals Sanitising Water kills 99% of bacteria in just seconds; the extremely useful spray is made from a unique mix of water and a completely natural acid called Hypochlorous – making it 100% natural. Hypochlorous is a natural acid produced in the human body to fight bacteria and germs, so parents can be confident it is completely natural and safe.
Even better is that it suitable for those with sensitive skin, eczema, psoriasis and asthma as it contains no alcohol, harmful chemicals, fragrances or preservatives. It's even that safe it passed official UK drinking water tests, so no wonder it is also harmless to swallow.
This sanitising water is 100% natural and is completely safe to use on infant hands and skin, and even in the mouth right from birth. It can even be used on a dropped apple or a bottle teat, without the need to rinse. Vital's Sanitising Water will prove invaluable when ensuring feeding equipment and soothers are germ-free, but it has plenty of other uses too.
Vital Baby Aquaint Sanitising water comes packaged in a handy spray bottle in two different sizes – so it can be kept at home or popped in a changing bag ready for a day out. Families with older children will love it too, whether they are dealing with scraped knees or just cleaning up before (or after) tucking into a picnic – there really is just no limit on what you use it for.
For more information on Vital Baby Aquaint Sanitising Water or to order your bottle,
click here
.
We at MummyPages HQ reckon this is soon to become a staple in the household of families nationwide.