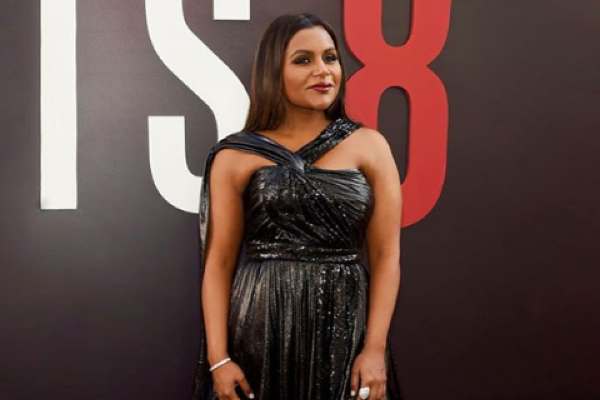 Parenting isn't always finger painting and baking cookies.
Particularly if you are doing it all on your own alone.
No else will swoop in to put your babies to bed or get them ready for school.
Juggling everyone's schedule is solely down to you.
At times, it can feel like the odds are very much stacked against you.
However, Mindy Kaling speech to Dartmouth graduates is the motivation every parent needs to give them the push to believe in themselves.
During her 17 minutes on stage, she gave the class plenty of giggles and laughs with words of advice around toilet plungers and dating.
Nevertheless, it was her personal account of being a single parent that really moved everyone.
Mindy is mum to baby Katherine.
The Ocean's 8 actress started with the moments she brought the baby home, which didn't live up to the Hollywood tradition.
"After my daughter was born in December, I remember bringing her home and being in my house with her for the first time and thinking, 'Huh. According to movies and TV, this is traditionally the time when my mother and spouse are supposed to be here, sharing this experience with me.' And I looked around, and I had neither. And for a moment, it was kind of scary. Like, 'Can I do this by myself?'"
Realigning and evaluating her life, Mindy quickly realises that she isn't alone.
"But then, that feeling went away, because the reality is, I'm not doing it by myself. I'm surrounded by family and friends who love and support me. And the joy I feel from being with my daughter Katherine eclipses anything from any crazy checklist."
Drawing on her experience, she shares the wisdom to have the courage to follow your own path.
"I just want to tell you guys, don't be scared if you don't do things in the right order, or if you don't do some things at all. I didn't think I'd have a child before I got married, but hey, it turned out that way, and I wouldn't change a thing. I didn't think I'd have dessert before breakfast today, but hey, it turned out that way and I wouldn't change a thing.
"So if I could impart any advice, it's this: If you have a checklist, good for you. Structured ambition can sometimes be motivating. But also, feel free to let it go."
"Yes, my culminating advice from my speech is a song from the Disney animated movie, Frozen," she said as laughter erupted once again.
Bringing her speech to a close, she encouraged the students to go forth and take on the world.
"I've covered a lot of ground today, not all of it serious. But I wanted to leave you with this: I was not someone who should have the life I have now, and yet I do.
"I was sitting in the chair you are literally sitting in right now and I just whispered, 'Why not me?' And I kept whispering it for seventeen years; and here I am, someone that this school deemed worthy enough to speak to you at your commencement.
"Don't let anyone tell you that you can't do something, but especially not yourself. Go conquer the world. Just remember this: Why not you? You made it this far."
Preach it! To watch her full speech, see below.