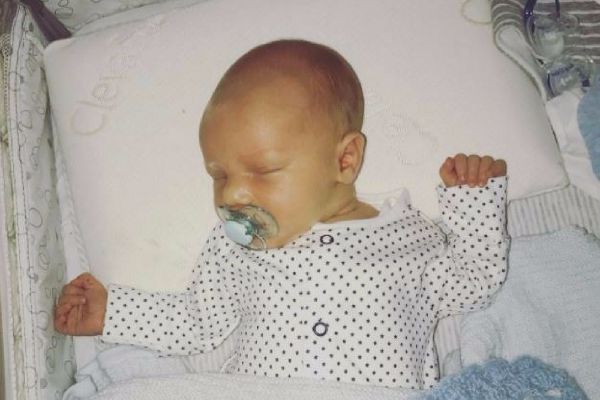 Conor McGregor Junior is only two months old but he's already travelling the world.
Mum Dee Devlin shared a snap of herself and her son waiting to board a plane to go see Conor as he jets around the world on a press tour to promote his upcoming fight against Floyd Mayweather.
The new mum grinned broadly as she cradled Conor Junior, writing: "We're on route Daddy," beside the snap.
The proud mum has been sharing lots of photos of her new arrival online, including a snap of him wearing a baby tuxedo to her sister Cathy's wedding abroad in June.
Meanwhile, Conor recently shared a photo of his son in his very own child-sized toy sports car, to which protective mum Dee responded, "Not on my watch thanks!"
Back in May, speculation was rife that the couple's son had arrived when a verified Instagram account was set up in the name Conor McGregor Junior. The bio read "Account run by my parents – Conor McGregor and Dee Devlin."
Account followers include Paradigm - McGregor's management company - and his manager Audie Attar. Meanwhile, the only accounts Conor Junior followed were those of his parents.
The Irish MMA champ took to Twitter on May 7 to share the first photo of their new son, posting a shot of overjoyed new mum Dee Devlin cuddling their little bundle of joy.
"Dee and Junior are doing great, everyone! Thank you for all the kind words, I am one proud and blessed Daddy," he wrote, in a tweet that has gone viral across social media.
Dee also thanked her fans for the many messages of support and well-wishes they received ahead of the birth.
She took to Facebook to post the same photo saying, "Welcome to this world my beautiful baby boy little Conor Jr. We will love you with all our heart! Mum and bub are healthy, thank you for all the beautiful messages. They mean a lot."
Proud grandad grandfather Tony McGregor confirmed the news of the tot's arrival, to the Irish Mirror, saying: "There's great news for the McGregors and the Devlins. Baby Conor Jack McGregor was delivered last night at 8 pm in the Coombe Hospital.
"He came in at 8 pounds 14 ounces. The whole family are absolutely delighted. We've experienced this recently with our eldest daughter, and there's no better feeling in the world than being a grandparent. The parents are absolutely over the moon and everyone is healthy."