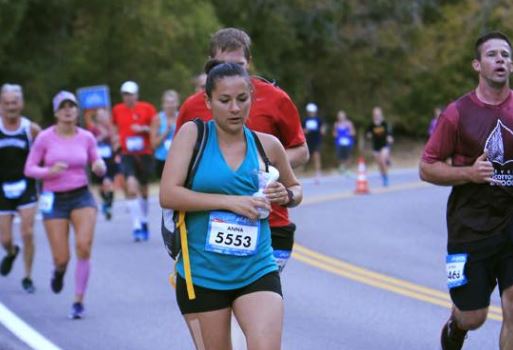 We read many stories every day of the sacrifices parents make for their kids and how even if it seems impossible, they'll always put them first.
And one that really takes the biscuit is this story of a mum who didn't allow the fact she was running a half MARATHON to interfere with pumping her milk.
Yep, five months after giving birth to her daughter, mum Anna Young took on the challenge of the marathon, pumping her milk after she had covered the first eight miles.
And we're blown away by the action photo snapped of Anna pumping on the run. It beautifully captures the power and strength of a mother's love.
"Yesterday I ran a half marathon at five months postpartum," she captioned the photo she posted on the Occupy Breastfeeding Facebook page. "I had to leave at 4:30am and the race started at 6:45am. I nursed my daughter before I left my house, pumped after running the first 8 miles and nursed her after I made it past the finish line. This group and Le Leche league [non-profit breastfeeding organisation] motivated me to find a way to run my race and take care of my daughter. #normalisebreastfeeding."
Anna's photo was roundly praised, with many people dubbing her "amazing" and "a rockstar".
"Holy s**t!!!" commented one. "Amazing!! I ran a half on Saturday, too! I was DYING to get to my son after to nurse. I wish I had been brave enough to pump while running (walking!) Thank you for normalising breastfeeding!"
"Oh my word," wrote another. "She's all 'I'm going to go run a zillion miles after just pushing a human out of my business. Hope I have enough breast milk bags!' And is that a manual pump? Seriously, I wouldn't be able to do any of that! Hats off to her!"
While this male perspective was truly heartening: "One for the ladies," he wrote. "I'm a guy, but of this I'm truly astounded. This is truly astronomical, that someone like you would go to such a length as this. Yes, this should be the norm everywhere. Go Anna! You rock!!!"
Rock she does – what a superwoman!
SHARE if you think this mama is a rockstar!