Lockdown came as a shock to everyone. We were all unprepared, caught off guard and scrambling to make sense of this huge and scary thing. Slowly, we all figured out how to make it work; we got used to online learning, working from home, sharing the laptop chargers and working out a routine of who needed quiet time and when.
But childcare and general family care and house running a massive bone of contention for many couples. If you were both in Zoom meetings, how did you decide who looked after young children? Who did the cooking fall to most often? Who supervised the online learning to make sure the kids were up and dressed for online school?
New studies show that not only did women take on the bulk of childcare when both parents were working from home, but that they experienced a perceived decrease in both job satisfaction and productivity.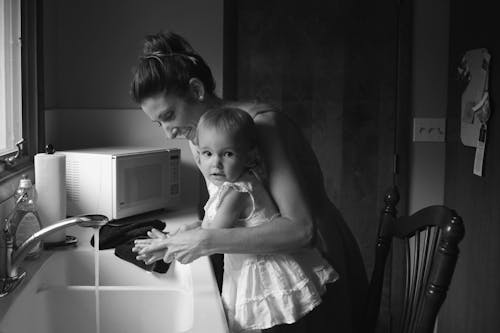 The National Women's Council of Ireland released a study detailing the impact that the combination of and care was having on the women of Ireland. The online survey 'Women's Experiences of Caring during COVID-19' found that 85% of women in a position of care for children or adults in their home had said their caring responsibilities had increased during lockdown. And of that 85% of women who lived with another adult, most reported that the burden of care was not equally distributed in the household, with most of the care falling to them.
"The emotional needs of both my daughter and my partner and my mother are constant and very exhausting."
"Before this it was a struggle but I was managing. Now, I am honestly at breaking point."
"I am currently expected to continue my 38 hours full-time job, as well as home-school two children in different classes. I am a lone parent, so I have to do all the cooking, cleaning, shopping, nurturing and listening with absolutely no help, as everyone is banned from my life right now. It's beyond stressful."
(Quotes from women who participated in NWC's Women's Experiences of Caring during COVID-19 online survey.)
Over 14,000 women took part in the survey, all of whom provided informal, unpaid care during the first lockdown. This is a problem that existed pre-pandemic, but the arrival of lockdown threw the cracks that had slowly been building up over years into sharp relief, leading to the mental and physical stress of the female carers in the house. Respondents included women who were working from home, women working on the frontline and women engaged in full-time care.
Mental health took a particular hit, with 55% of women saying they had less time for their mental health and wellbeing. At the same time, many of the activities usually undertaken to look after mental health such as socialising with friends and taking time out became impossible under restrictions.
"I'm a Traveller woman and caring for my elderly parents and relatives… COVID has frightened them and restricted them so their mental health and well-being has suffered. They are cocooning… It has placed a lot of stress on me. My reserves are beyond depleted."
"We are a one-parent family with no extended family in Ireland…If I was to get sick requiring hospital where would [my 10-year-old daughter] go?"
(Quotes from women who participated in NWC's Women's Experiences of Caring during COVID-19 online survey.)
In studies previous to the pandemic, it has been found that women working from home are more likely than men working from home to experience a blurring of boundaries between work and family life. Women have been shown to use the time saved from not commuting to engage in home labor like childcare and housework. And the pandemic has only exacerbated this situation.
While societal attitudes have shifted in recent years, with fathers expected not only to play provider but also be a more involved caregiver, and mothers becoming providers as well as caregivers, the shift that Covid-19 has caused has resulted in not only work burnout but also parental burnout. While both parents are suffering from this enforced merging of home and work life, it is women's work life that is suffering most.
Post-pandemic job satisfaction and productivity rates have fallen for women as the two worlds collide. Though women were also more likely to take on more responsibility in the home and care life pre-pandemic anyway, the merging of these two lives and the added burden of increased mess and childcare due to remote learning has pushed their work-life balance to the edge. As a result, they are seeing a perceived decline in productivity and job satisfaction creating a gender gap in these areas that did not exist before the pandemic.
Cliona Loughnane, Women's Health Coordinator with NWC said, "Many women told us they were feeling stressed and overwhelmed. It is really important that we consider the impact of gender inequality, in particular care responsibilities, on women's mental health. We need mental health services that understand these impacts and provide adequate supports in the community. This must include access to counselling in the community, services that support women's caring roles and trauma informed services.