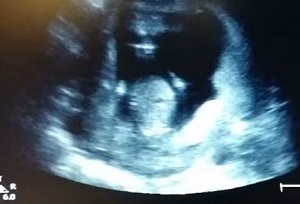 Finding out that you are expecting a baby is one of the most exciting moments of your life, but the celebrations are usually your job – not your baby's!
However, one baby just couldn't wait to get out of the womb to let its parents know how excited it was to meet them.
In astonishing footage released this week, mum-to-be Jen Cardinal shares the amazing moment that she witnessed her baby appearing to clap during its ultrasound.
When the couple saw the amazing sight, they viewed it as the perfect opportunity to bond with their baby, and began to sing 'If You're Happy And You Know It' to their little one.
At just 14 weeks, this baby is already showing a natural talent for music!
Check out the amazing footage in the video below.