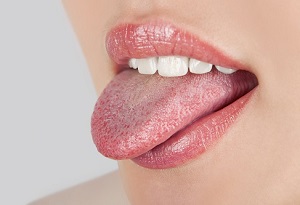 Sometimes, if you need an insight into what's going on inside your body, one of the best places to start looking is your tongue. Here are some of the signs to look out for, and what they could be telling you.
1. White patches
While these patches could indicate something as straight-forward as an oral hygiene condition, you could be suffering from candida or thrush, the risk of which is heightened if you're on antibiotics, chemotherapy, or medication for diabetes or asthma. It is worth paying a visit to your doctor if you are worried, as oral cancer can develop on or near these bumps.
2. Redness
A pronounced redness on your tongue could indicate scarlet fever, especially if it goes with a sore throat. Alternatively, it could also indicate a loss of taste buds due to an iron, B12 or folic acid deficiency.
3. A striped texture
This striped or webbed texture could be a symptom of oral lichen planus, a condition whereby the immune system attacks the cells in the mouth. With a heightened risk of developing oral cancer in those textured areas, the safest option if you are worried is to pay a visit to your doctor.
4. Bumps
Bumps of varying shapes, sizes and colours could indicate a number of different conditions. A bump on the top of your tongue could be a sign of a bacterial or viral infection, as well as an allergic reaction to food. Meanwhile, a white or grey bump with a hard surface could be a sign of leukoplakia, a disorder caused by tobacco use or irritation by dentures or dental work.
5. Black, 'hairy' tongue
As terrifying as it sounds, this is actually a harmless and temporary side-effect of a common condition. The 'hairy' appearance comes from an overgrowth of the tongue 'hair' that traps bacteria, and could be the result of anything from poor oral hygiene or too much mouth-breathing to excessive use of tobacco.