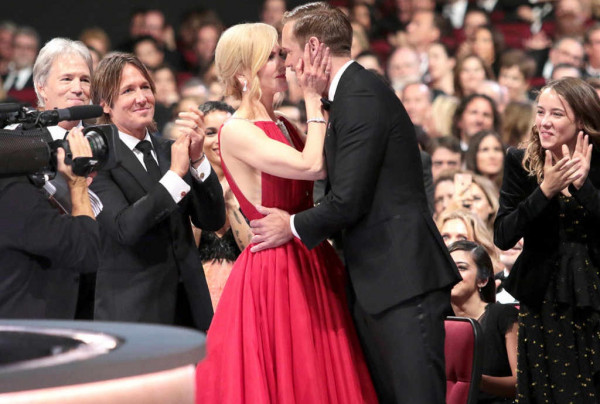 Nicole Kidman has FINALLY addressed the reaction to her 'congratulatory' kiss with Big Little Lies co-star Alexander Skarsgard.
The 50-year-old couldn't hide her blushes when the subject was brought up recently, during the latest episode of The Graham Norton Show.
The Aussie actress branded the chat show host 'provocative' when he complimented her on the success of the show, bringing up a still of her planting on kiss on Skarsgard's lips at the Emmys.
Nicole, who won the Best Actress award on the night, rolled her eyes as she demanded: "Why are you showing that? I kiss my husband, too!"
The kiss was quite the talking point on the night of the awards, particularly as Nicole's husband, country music star Keith Urban, was standing beside her!
As Graham joked with fellow guests Colin Farrell, Matt Lucas and Bryan Cranston, Nicole batted away any cheeky rumours that the incident may have sparked.
"I did kiss him, but you've got to understand – I did everything with Alex," she added.
"I've got an amazing, supportive, gorgeous husband who I love more than anything in the world, and I gave Alex a congratulatory kiss – and he's like a mannequin!"
Nicole and Keith, who have been married for 11 years, have often found themselves at the centre of split rumours.
The couple, who are parents to nine-year-old Sunday Rose and six-year-old Faith Margaret, have always maintained that there is no truth to the speculation.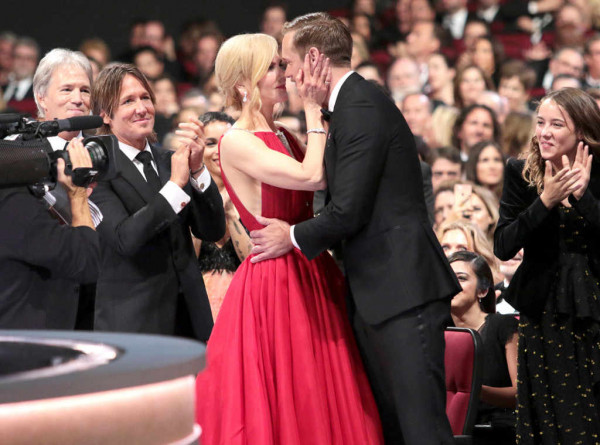 "Keith and I always say that we are just so lucky to have each other," she said in an interview, after marking her eleventh wedding anniversary.
"In this world, to be able to come back to that love and strength is so nourishing and powerful."
She added that the secret to their marriage lay in their 'absolute commitment and kindness' and the 'desire to protect and help each other'.
We'll definitely be tuning into The Graham Norton Show this week – it looks like they had an absolute riot on the red couch!