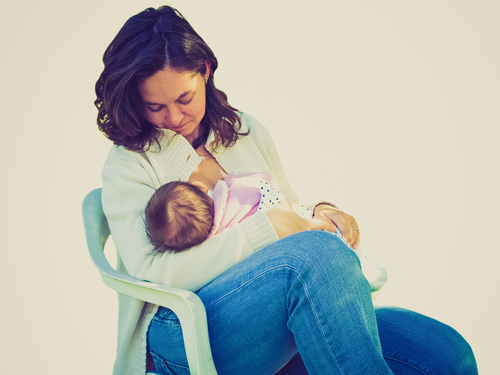 The latest word to enter the English language is brexting – texting while breastfeeding. It's not solely about texting though, and includes sending emails and scrolling through social media sites. Now that we are in the Digital Age, it has started to become the norm, but that doesn't make it right, does it?
We know it's not easy to find the time to send these all-important texts when you have a baby to mind nor do you want to spend up to two hours staring at your little one while they nurse, but it's time to put the phone away, and here's why:
Breastfeeding is about baby
According to the Center on Media and Child Health, your bond with baby is one of the most important aspects of the parent-child relationship. It helps with socialisation, health and mental state. If you are staring at your phone you will miss out on stroking your baby's head, holding their hand or rubbing their back. Things that help to establish this all-important bond.
Baby needs you relaxed
Studies have shown that looking at your baby while they are feeding can help with both your mood and your baby's. This doesn't mean you don't have to coo and sing to them throughout their entire feed, while it would be great, it's just not practical. But often, when you are on your phone, you can get lost in the world of emails and social media and before you know it your baby has finished and you have missed out on important relaxation time with them.
You need to switch off
Instead of seeing the time you sit down to breastfeeding as being a chance to catch up on the world outside your home, you need to change your perspective. Studies have shown that looking through other people's social media sites can in fact cause your stress levels to rise. And stress is the last thing you want when you are feeding baby. So switch off and chill out
Brexting stops you talking
Your baby builds up their language skills by listening to you talk. Unfortunately brexting can be pretty isolating. So if you really need to send that information in that text or email, ring the person instead. This way not only will you be ticking things off your to-do list, but baby will be able to hear your voice and develop their own skills.