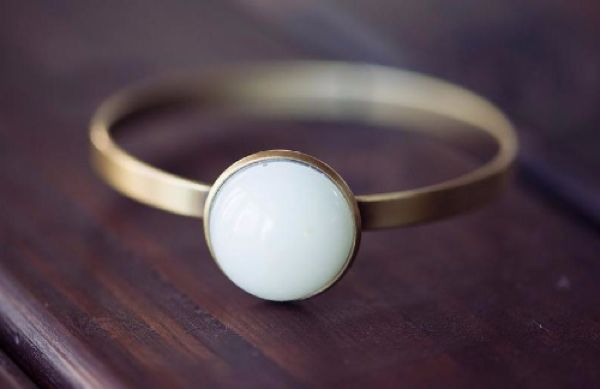 We have all heard about the various keepsakes that a person can make from the placenta, right?
Well there is a new post-natal trend on the scene, in the form of breast milk jewellery - and we actually love it.
The trend started when Amelia Edelman turned her own breast milk into a precious keepsake.
"So many mothers hang on to tangible mementos from their motherhood journey that usually just end up taped into a book or tucked in a shoe box in the closet," she told Refinery 29.
And now there are countless businesses online that create all kinds of keepsakes out of a mother's breast milk and they have been sharing their milky creations online.
Sacred Legacy Arts is one of the companies, who claim they use "chemicals to professionally preserve the breast milk so it can be included into a jeweller's-grade resin."
Apparently it takes about 30g of breast milk, and a few weeks of waiting, to receive a stunning milk stone to wear as a ring of on a necklace. The shade of the stone varies depending on the colour of the milk.
As sweet as the concept may be, the people of the Internet have has seriously mixed opinions on the matter.
"Stop it this can't be a thing," one user wrote. "EW. What is happening to the world??" and "NOOOO", were all comments on the breast milk ring.
At the end of the day, you are all entitled to do whatever you want with your breast milk.
Live your truth.