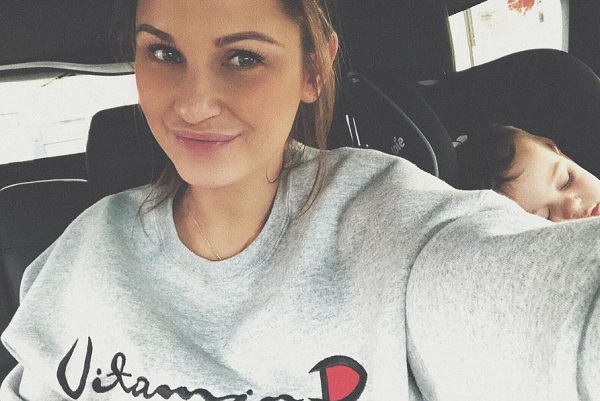 Mums have praised Sam Faiers for her honest post about breastfeeding.
The mum-of-two posted a photo on her Instagram account, captioned, "Pulling over to breastfeed, squished in between two car seats. Thank God Paul was asleep. #gettingthehangofit #2under2 #mumslife."
The former The Only Way Is Essex star shared the photo with her 1.9 million followers.
In the photo, the beaming mum can be seen breastfeeding her newborn baby girl. The honest post is exactly what mums need to see.
There is a huge taboo about breastfeeding in public, but stars like Sam can help beat the stigma.
The photo has been liked over 48,000 times in less than a day. Sam's honesty is a breath of fresh air.
Fans agreed that the mum was spreading a positive message that today's society needs to accept. They agreed that a woman should feel comfortable breastfeeding in public.
Fellow mums showered Sam with supportive comments and told her breastfeeding would get easier. One wrote, "I'm on my first breastfeeding journey and I can sympathise - hope it gets easier."
Another mum thanked Sam for being so open, "I never breastfed so I think you are amazing for doing it the second time around too. I would love to know when it gets easier because I'm still waiting."
One mum shared, "I miss breastfeeding! The number of unusual places you just have to go for it is unreal."
Her role on The Only Way Is Essex plummeted Sam into stardom. The mum is constantly being criticised and judged, but she doesn't let that stop her from being open about motherhood.
The mum-of-two has documented her life in the hit fly-on-the-wall series The Mummy Diaries.
She is set to share her second pregnancy journey with her fans in the third series of the popular documentary-style show.
The author was delighted to hear that fans cared about her family. There was a huge demand for a third series of the show to be created.
The Mummy Diaries star has often spoken about having two children under the age of two. Many mums have thanked her for being so honest as it shows them they're not alone.
Sam's honesty has helped mum's open up about their own struggles. One mum shared, "2 under 2 is the hardest thing! You're amazing. Go, mama!"
Sam is such an inspiration! We love how honest she is about motherhood.
Fancy winning a year's supply of nappies? Just sign up to the Tesco Club and you could walk away with this fantastic prize, worth £350. AND once you sign up you get a bonus 100 points on your card.