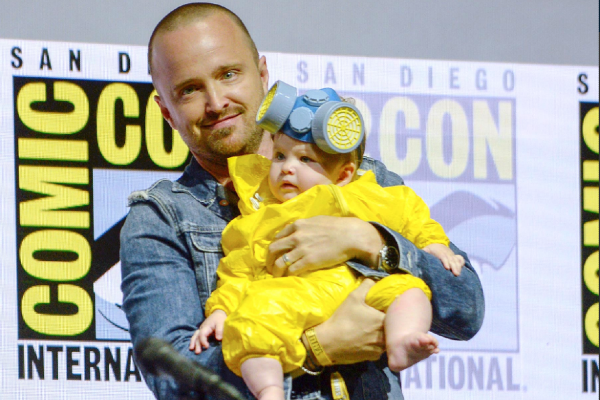 The Breaking Bad cast made an appearance at this year's 2018 Comic-Con International: San Diego, and we died of cuteness!
Aaron Paul turned up on stage with his adorable baby daughter dressed in a hazmat suit!
The Internet has dubbed her 'Little Heisenburg' in her bright yellow suit and gas mask accessory.
The audience 'oohed' and 'awed' at Aaron's daughter, Story, before Bryan Cranston soon walked out on stage afterwards.
Paul and his wife Lauren had baby Story just over five months ago and have been doting over her ever since.
Appearing on Jimmy Fallon in March, Paul explained how they chose such a unique name for their little girl.
in between filming for Breaking Bad, the couple met up for their first official date in Vegas, won $16,000 in blackjack, and almost got married!
Although the wedding chapel was closed, the couple found their daughter-to-be the fiercest, little leather jacket!
What an eventful night! They decided on the name 'Story' after reflecting on the story of their first, adventure-filled date.
The cast's Comic-Con reunion marked Breaking Bad's ten year anniversary.
After Paul and Bryan appeared on stage, fans fired questions at the co-stars and the show's creator, Vince Gilligan, about the possibility of a reunion show.
Gilligan also writes the show's 2015 spin-off, Better Call Saul, and, unfortunately, he said that neither Paul nor Bryan would be appearing in the spin-off's fourth season.
Don't be too disappointed yet though, as the writer also mentioned, 'We would be seriously remiss if these characters don't appear on Saul before it is all over,' according to Metro.
Hopefully, the co-stars will be able to have one last on-screen reunion, but until then, at least we get to enjoy this adorable photo of Story!