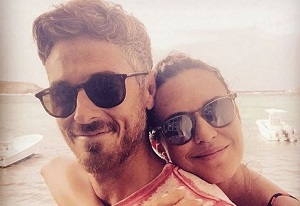 Anyone who has been following them on social media over the past two weeks will know that these stars are absolutely besotted with their newborn, and now we have the adorable video footage to prove it.
Just a fortnight after welcoming their daughter, Charlie Mae, to the world, actor Dave Annable has captured the sweetest exchange between her and his wife, Odette.
Taking to Instagram to name Odette, his former Brothers & Sisters co-star, as his 'Woman Crush Wednesday', Dave shared the first ever footage of his two-week-old tot.
The video, showing Odette and Charlie Mae nuzzling each other, was accompanied by a typically witty caption from Dave, reading: "This better be the only lip kissing my daughter ever does. My #WCW goes to Odette, who better let me dress our girl in only turtle-necks and VERY long pants."
His sweet dedication comes just days after yet another, in which he shared a shot of Odette's positive pregnancy test from all those months ago.
With the test stick reading 'Pregnant 2-3' in the picture, Dave's love of fatherhood was clear as he captioned it: "Worth the wait".
This is such a precious time for the couple. We can't wait for more adorable insights into their journey.