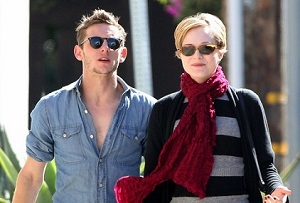 They surprised everyone when they announced the news that they were separating after two years of marriage, and the strain of Jamie Bell's split from Evan Rachel Wood was clear to see in his latest interview.
Opening up during an interview with HuffPost Live, the Fantastic Four star spoke candidly about the difficulties of raising the couple's almost-two-year-old son.
"That idea that it takes a village to raise a kid is true. I mean, it's hard. When you're by yourself, you often need an extra pair of hands. You often need someone to lighten the load a second so you can just breathe," said the 29-year-old.
Jamie and Evan wed in 2012, going on to welcome their son together in July 2013. The couple announced the news of their separation in May of last year, saying that they would continue to co-parent their son.
While raising his little one amid these circumstances has tested Jamie at times, he added that it is absolutely worth it at the end of the day.
"The reward is that you have an incredible relationship with your child, because it's just you," he said, adding that he "wouldn't trade that for the world".
We're sure many of you in similar positions and situations can identify with Jamie's feelings.