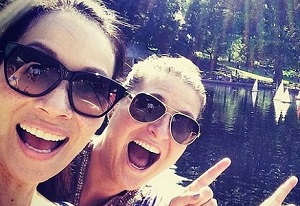 She has dedicated herself to helping children all around the world through her charity work for years, and now this Hollywood star has become a mum for the very first time.
Today we're sending major congratulations to actress Lucy Liu, who has welcomed a son.
A representative for the Elementary star confirmed the news to People magazine, saying: "Lucy is the proud mother of Rockwell Lloyd Liu, brought into the world via gestational carrier. Mom and baby are healthy and happy."
The 46-year-old later took to social media to share the news with her fans, posting a stunning black-and-white shot of herself cradling the newborn.
"Introducing the new little man in my life, my son Rockwell Lloyd Liu! In [love]!" she wrote.
Given her vast experience of dealing with children through her charity work, we reckon that Lucy is already well prepared for all that motherhood entails. As a UNICEF ambassador, the Charlie's Angels star has travelled to countries such as Syria and Haiti to learn about, and help out children affected by crises.
"The atrocities that I've encountered on travels with the organisation and the bravery that these children display is just shocking," she told People earlier this year.
Congratulations to Lucy on her wonderful news.