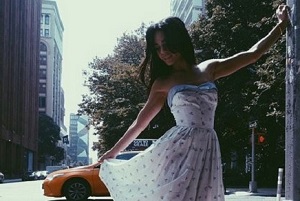 Personally coping with the news that a loved one is ill is difficult enough in itself, so to share that news with the world while the eyes of the media are focused upon you must be incredibly tough.
Actress Vanessa Hudgens handled it like a pro however, when she informed the crowd at the 2015 Industry Dance Awards this week that her father is battling cancer.
The former High School Musical star was being honoured with the Breakthrough Performer award at the ceremony in Los Angeles, when she dropped the bombshell during an emotionally-charged acceptance speech.
Standing on stage, the 26-year-old told the audience: "Last year, my boyfriend, Austin [Butler], lost his mum, Lori, to cancer, and my dad has just been recently diagnosed with stage four cancer. Let me tell you: I hate cancer. I hate cancer with every cell of my being."
"This award, it means a lot to me; but I dedicate it to my boyfriend's mom, Lori, my dad, and to all the families out there who are struggling with this, because it really takes a strong person and a strong family to be able to help those out who are going through this," she added.
Vanessa later received an outpouring of love and well wishes from devoted fans and followers across social media.
Our thoughts are with the Hudgens family at this time, and we pray for Vanessa's dad's recovery.