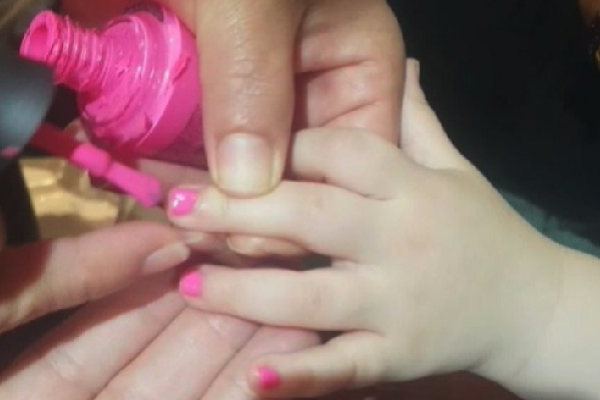 Picture via Instagram
Chanel Nicole Marrow, daughter of rapper Ice-T and reality star Coco Austin, is no stranger to pampering. The tot just turned two this week, and her mum revealed in an Instagram post yesterday that she's taken little Chanel to get a pedicure several times.
However, yesterday was special because the two-year-old asked for her first ever manicure. Chanel's tiny hot pink nails are too cute for words, and her mother cooed in the Insta video, "Mom loves pink too!"
The video also features the toddler helping to give her mum a massage during the pedicure. The 38-year-old model joked to her little one, "Are you going to be a masseuse one day, Chanel?"
Coco shared the video with her nearly 3M Instagram followers, and in the caption noted just how patient her little girl is: "She was a pro and sat still to let them dry...I have a new partner when I have to get my nails done now!! Who hoo! Am I creating a monster?"
Most fans were on board with the treat-your-self session.
"Can you adopt me? Best mom ever!" one fan commented.
"My little girl turns two tomorrow! I can't wait to do this stuff with her," said another Insta follower.
One person allayed Coco's concerns: "You're not creating a monster; you're creating memories."
However, others expressed their worries about such a little girl getting a mani-pedi.
One concerned fan shared, "I do have reservations about it. Coco, you wouldn't believe the horrid infections that can be picked up from nail salons... Also, although you might not smell the fumes from all the chemicals used in a salon, they still can affect a small child."
"Seriously?? That's too much for that age," another follower commented.
"Let her be a baby," said one Instagram user simply.
What do you think, mums? When would you take your kids to the nail salon for some mother-child bonding?