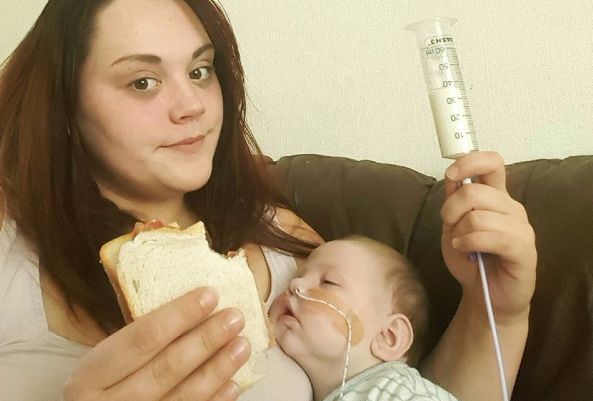 Gemma Harris is the proud mum of three beautiful children, one of whom has to be tube fed due to a number of health complications.
Gorgeous little Remi was born in October 2016, and suffers from Severe Hypoxic Ischemic Encephalopathy having been deprived of oxygen at birth.
Remi also suffers from Cerebral Palsy, Erbs Palsy and Dysphagia - which means that she cannot swallow effectively and must be fed through a tube.
Tube feeding has become a normal part of Gemma's day, feeding her precious baby girl with the necessary tools to ensure she keeps developing and growing.
However, Gemma has been the victim of snide remarks and staring as a result of the occasional public feeding - and has taken to social media to set the record straight.
"I see your funny looks, polite smiles even your looks of disgust, I can assure you I am not hurting her and I'm not feeling sorry for myself that I'm feeding her," she wrote in an honest and amazing Facebook post.
The mum continued, telling people not to stare, and instead to approach her and ask questions about her daughter's condition:
"If you're wondering what it is... please ask me (as long as I don't have a gob full of subway). I know, she is an exquisite looking marvellous baby, come and say hi, she's not a tiger in the zoo... stop staring."
Alongside the powerful message, Gemma shared a picture of herself feeding lovely little Remi with a tube in a shopping centre - in an attempt to normalise the scenario that many parents face every day.
The post was uploaded last week, and has since been shared almost 1000 times, with over 8,700 people reacting to the post with likes and loves.
Almost 1,000 people have commented on Gemma's Facebook message, showing their love and support for this brave mum.
One parent wrote: "No one should be embarrassed about feeding there baby.no matter wot way the baby feeds. Well said,"
Another mum said "You are a wonderful mom and Remi is so lovely, you are doing a marvellous job with her. Keep doing what you do for you and your baby, ignore the ignorant people, some people have very sad lives and can't help but stare, you have got three beautiful children!"
Gemma has also set up a Facebook page to document and share her daughter's journey, in the hope that the idea of tube feeding can become normalised.
What an amazing mum!